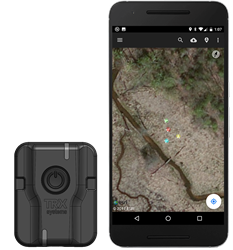 Greenbelt, Maryland (PRWEB) June 05, 2017
TRX Systems, developer of NEON Location Solutions, announced today the availability of NEON Squad Tracker at the Joint Navigation Conference in Dayton, Ohio (JNC 2017). NEON® Squad Tracker is a low SWaP navigation solution supporting delivery of location within GPS-denied or disadvantaged environments, improving navigation and situational awareness for dismounted squads.
This new NEON solution delivers location, tracking and mapping for personnel operating in areas where GPS is inaccurate or unavailable, in a solution easily integrated into military position, navigation, and timing (PNT) architectures. GPS may be denied in triple canopy, urban canyons or indoors as well as in subterranean environments, and can be jammed or spoofed. Accurate location information in these GPS-denied locations is critical for enabling improved navigation, situational awareness, and targeting, as well as for signal, sensor, and facility mapping.
To deliver reliable GPS-denied location information, NEON Squad Tracker uses a suite of patented algorithms to opportunistically fuse inertial sensor data, GPS (including external resilient GPS sources), warfighter waypoint check-ins, ultra-wideband shared collaborative navigation constraints and "dropped beacons." Position location information from external sources is easily input to NEON through the Android API.
"Position and navigation information is critical to dismounted warfighter operations but is vulnerable to denial and is unavailable indoors and underground," says Dr. Carole Teolis, Chief Technology Officer at TRX. "TRX has adapted our low SWaP commercial indoor navigation technology to integrate within evolving military resilient PNT architectures. The solution has been designed specifically to meet the requirements for dismounts, leveraging low cost sensors and accepting PNT from diverse sources."
Squad Tracker is designed to be integrated as a subsystem of an overall PNT architecture that extends operations when dismounted personnel are operating in naturally or intentionally GPS-denied environments. Squad Tracker is deployed as an Android location service with a small, body worn tracking accessory and is easily embedded within partner hardware systems.
At JNC 2017, TRX will be showcasing Squad Tracker at the largest U.S. military Positioning, Navigation and Timing (PNT) conference of the year with joint service and government participation. The conference runs from June 5-8 at the Dayton Convention Center; requests for meetings and demonstrations of NEON apps can be made by contacting TRX at info(at)trxsystems.com or by visiting TRX at booth #112 at JNC 2017.
About TRX Systems
TRX Systems is the developer of the NEON® Indoor Location Solution, delivering location and mapping indoors, underground and in dense urban areas where GPS is not available or is unreliable. NEON delivers ubiquitous, low-cost, 3D indoor location through the use of advanced sensor fusion, ranging, and patented dynamic mapping algorithms. The patented technology of NEON provides the foundation for a number of commercial applications including NEON Personnel Tracker and NEON Signal Mapper and NEON Squad Tracker.
TRX Systems is the recipient of the Silver Edison Award for innovation in the Navigation and Robotics category, the Tibbetts Award given by the U.S. Small Business Administration for innovation and economic impact of research and development, the TEDCO ICE Award for Corporate Excellence and the Innovator Award from the Chesapeake Regional Tech Counsel (CRTC). TRX's indoor location software development has been supported by the National Science Foundation, the Defense Advanced Research Projects Agency (DARPA), the U.S. Army, and the Department of Homeland Security.
For more information, visit http://www.trxsystems.com.