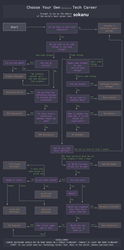 Vancouver, BC, Canada (PRWEB) June 01, 2017
Fresh from the underground laboratories of Sokanu comes the Technology Career Test—a specialized and streamlined test designed to point users towards a compatible tech career in just ten minutes. Unlike Sokanu's General Career Test which matches you with over 800 careers, the Tech Test deals with only 16 tech-specific careers. As a result, the Tech Test is much faster and much more accurate at identifying the nuances between tech careers.
Why is it a good time to get into tech? The field boasts some impressive stats for workers:
6.5% happier at work
22% higher salaries
15% industry growth
Just like Sokanu's General Career Test, the Tech Test is totally free. "Tech is booming, and lots of people are looking for a way to get in. We think there's room for a wide array of people in the industry, it's just a matter of finding the right fit," said Ivo Marjanović, developer at Sokanu. "We hope our tech test helps some people find a more fulfilling career."
Don't have ten minutes to spare? There is another option—The Official Sokanu Tech Test Flowchart. " We were wondering if anything could possibly be more fun than taking a career test," said Lucas, lead designer on this project. "And then it hit us - a flowchart. It was impossible to port over our live psychometric profiling and machine learning into a static visual format, but we think it turned out to be a quick and amusing way to see which careers are part of the Tech Test."
For more reliable results, Sokanu heartily recommends taking the actual Tech Test.
###
About Sokanu Interactive: Launched in 2013, Sokanu offers the world's best career aptitude test for free in order to help people find their perfect career. Sokanu is used to offer career guidance by over one hundred schools and universities including NYU, University of Texas and University of Miami among others. Learn more at https://www.sokanu.com/.
Contact:
Lucas Thompson
Public Relations Lead
lucas.thompson(at)sokanu(dot)com