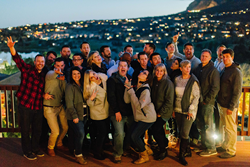 Chicago, IL (PRWEB) June 01, 2017
Private homebuilding companies utilize New Home Star to put dedicated agents onsite in their models. New Home Star promises the look and feel of an in-house sales team with all of the benefits of a national sales organization partnership. The most recent evidence of this strategy's efficiency comes in the form of a new benchmark for sales and taking the earned reward to the next level.
This is the company that recently gave a Tesla S to one of its agents and flew an entire division to Las Vegas, so upping the ante is no small feat. The prize for this most recent accomplishment? New Home Star will fly the entire 300-person company to Cancun, Mexico for an all-inclusive stay at a four-star resort.
What did the team achieve to earn this? They exceeded their partners' forecasts and beat the company's goal of 500 sales in 30 days. "We came in just short of 500 in March by hitting 498 sales," says Founder and President David Rice. "We turned around and challenged the team to hit 500 in a 30-day period from mid-April to mid-May." The team not only met the goal, they far exceeded it by closing 548 sales.
The trip will happen in October and will serve as a reward, as well as a venue for additional training. The company's Vice President of Organizational Development, Keith McKinney, is especially eager to use the time together for more than just celebration. "We'll run optional training sessions each morning starting at 7 am, and my bet is that 80% of the team will participate; that's the kind of organization we have," he says. "We're already working on our training agenda for the whole group that will begin at 9 am each day and will run through lunch. We want to have lots of fun, but also take advantage of having everyone together in one place." This will be the first time that the company has everyone assembled from the 21 different states where they operate.
About New Home Star
New Home Star is a national real estate sales management firm serving homebuilders and developers across North America. They recruit, select and develop sales teams with a full-time focus on new home sales, and partner with large, midsize and small-scale homebuilders in the U.S. and Canada. With a network of local sales divisions from coast to coast, New Home Star delivers sales solutions for businesses with a national perspective and a local presence. Their business goal is simple: To Sell More Homes, More Profitably™. For the latest updates on new home sales, follow @newhomestar.