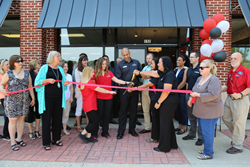 "Spending the last 30 years in the largest franchise system, I know what it takes to be successful and I found all the structure, systems and routines in place at HealthSource." -Sharlene Smith
Alpharetta, GA (PRWEB) June 20, 2017
Two women who became incredibly successful moving up the ranks in the corporate world of McDonalds have decided to venture into the Health and Wellness Industry by licensing six HealthSource Chiropractic franchises.
Sharlene Smith and Charice Nash-Smith, who recently opened HealthSource of Crabapple, Georgia, plan to open five more HealthSource clinics in the greater Atlanta area. With a combined 50 years of experience in franchising operations with McDonalds, they wanted to go into business for themselves and agreed that HealthSource was the perfect fit.
"I love that at HealthSource we are family and are rooted in values that drive what we do!" said Sharlene Smith. "It's a smaller brand that has all the resources and support to be a big brand. The training and support is exceptional and I don't have to worry about figuring things out or reinventing the wheel."
Smith raves about her experience with McDonalds, and said she was looking for a new franchise opportunity that shared the fast food behemoth's commitment to getting its owners started on the right path from day one.
"Spending the last 30 years in the largest franchise system, I know what it takes to be successful and I found all the structure, systems and routines in place at HealthSource."
The new owners will be bringing on a doctor and a full team to run the clinic and provide care. Dr. John Thomas, who spent more than 20 years practicing independently, said he's excited for what joining the biggest brand in chiropractic can mean for his practice.
"I joined because of the integrity of the brand, the solidity and compliance of the processes and systems and the incredible network of doctors, team members, corporate partners, and HS corporate team members," he said. "I practiced 'alone' for 20 years with a fraction of the support and did okay. But now we are going to rock this amazing opportunity to new exponential heights because we have all the tools we need to make it happen thanks to the brilliance of HS."
About HealthSource
At HealthSource, our clinics have gentle, caring chiropractors that work side-by-side with licensed massage therapists and progressive rehab specialists to get patients feeling better again, quickly. Chiropractic care is about whole body wellness. We not only focus on back pain, neck pain, headaches, sciatica, fibromyalgia and other common concerns, but also on prevention, wellness and nutrition. Spinal Decompression, a leading edge non-surgical and non-invasive technology, is available in many HealthSource clinics for patients with severe conditions.
###