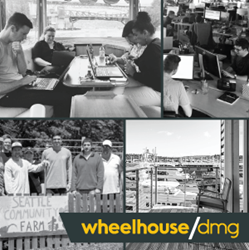 "Somehow I stumbled upon this company and it was like winning the lottery as far as companies to work for go." -Review of Wheelhouse DMG on Glassdoor
Seattle, Washington (PRWEB) June 01, 2017
Wheelhouse Digital Marketing Group, a leading search and digital marketing agency, has been named by Inc. Magazine as one of an elite group of Best Workplaces for 2017. Wheelhouse DMG was selected out of thousands of applicants in the magazine's second annual survey. This national award is the fourth significant business award for Wheelhouse over the past 12 months, and follows inclusion at #1,316 on the Inc. 5000 list of fastest growing companies in the U.S. as well as designation as one of the 100 fastest growing companies and one of the 20 Best Places to Work among midsize companies – both in Washington State and both awarded by the Puget Sound Business Journal.
As part of this award, Wheelhouse DMG is profiled in a special online feature on the Inc.com website, the focus of which is to recognize private companies in the U.S. that have created exceptional workplaces through a focus on culture, superior employee work experience, and outstanding benefits.
"I believe that the purpose of business is to do good in the world – for our clients, for our employees and for the communities in which we live," said Aaron Burnett, president of Wheelhouse DMG. "To be named a Best Workplace by Inc. is affirmation that we are taking great care of our employees and collectively building a strong and vibrant culture that delivers richness in experience and value that goes beyond a paycheck.
"Being a Best Workplace for our employees is more than checking the box on typical benefits like 401k, great vacation and a great snack closet", adds Paul Weinstein, VP of Client Services. "It's working with the team to strengthen our culture and ensuring that our values guide our client work and make their experiences with us better than they could even have imagined."
A few examples of why Wheelhouse DMG is among the best workplaces in the United States:

Generosity is a core value at Wheelhouse DMG. One of the ways the company puts this value into action is through quarterly "Generosity Days" during which all employees are given a day off (with pay) for the sole purpose of providing service to the people, organizations and causes they care about in their communities. And the company bolsters their service with donations of cash and/or goods to the organizations that they help.
One of the most surprising aspects of Wheelhouse culture is a belief in pursuing joy at work (yes, joy is a core value as well). Every employee has a monthly "Joy Fund" - $50 that can be spent on anything that brings joy to a Wheelhouse employee or client. Joy funds have been used for everything from opera tickets and noise-cancelling headphones to weekly housecleaning for someone who just needed a break.
Employee reviews on Glassdoor describe working at Wheelhouse like this:
"Somehow I stumbled upon this company and it was like winning the lottery as far as companies to work for go."
About Wheelhouse DMG
Wheelhouse Digital Marketing Group is a performance-driven search and digital marketing agency known for delivering superior results through engaging partnerships. We work with start-ups, established and enterprise businesses to discover and make the most of opportunities across digital channels, including Local, Mobile, SEO, PPC, Digital Advertising, Analytics and Digital Strategy. 
Wheelhouse is known by clients and employees for its values-based culture. An obsessive focus on helpfulness and generosity in all client engagements has delivered outstanding client performance and led to 300%-plus growth over the past three years. In addition to the Inc 200 Best Workplaces, the company has also been named one of the 20 Best Workplaces in Washington State, one of the 100 Fastest Growing Companies in Washington State (PSBJ) and was included in the 2016 Inc. 5000 list of fastest growing companies in the United States (at #1,316). 
To learn more about Wheelhouse DMG and our work, visit http://www.wheelhousedmg.com.
About Inc. Magazine
Founded in 1979 and acquired in 2005 by Mansueto Ventures, Inc. is the only major brand dedicated exclusively to owners and managers of growing private companies, with the aim to deliver real solutions for today's innovative company builders. Winner of Advertising Age's "The A-List" in January 2015, and the National Magazine Award for General Excellence in both 2014 and 2012. Total monthly audience reach for the brand has grown significantly from 2,000,000 in 2010 to over 40,000,000 today. For more information, visit http://www.inc.com/.