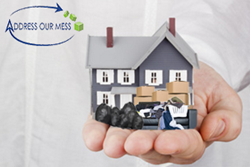 Estate management can become extremely complicated when the person that passed away was a hoarder.
Baltimore, MD (PRWEB) July 17, 2017
Address Our Mess is offering cleanout service in hoarded estates for attorneys and families in Baltimore.
Losing a loved one is an especially difficult thing to go through. Trying to work through the emotional pain is hard enough, but to make matters worse, families also have to deal with consoling other loved ones, making funeral arrangements, and handling their loved one's estate. Estate management is usually a simple process when it's delegated to a lawyer, but it becomes significantly more complicated when the person that passed away was a hoarder.
With regular estates, if the home is owned, it will either be left to a family member or be put up for sale. When a hoarded estate is given to a family member it usually just becomes more of a burden, and it's unlikely to sell as is. Most hoarded homes are overrun with fire hazards, health hazards, and sanitation issues that make the home unattractive to potential buyers. Family members are usually not able to clean up a hoarding home by themselves, so if there is any money left along with the home, the first step for family members and attorneys is usually to get the home cleaned up professionally.
In most situations, cleaning up the estate will involve contacting multiple professional services to restore the home back to normal living conditions. Some of the most common examples usually include hiring a general contractor to make repairs, an appraiser to assess the value of the contents in the home, and a junk removal and cleaning company to get everything neat and sanitary.
Address Our Mess is helping attorneys and families in Baltimore by providing all of these services in one. It can be overwhelming and time consuming to try to find multiple professional services to do everything in a timely manner. But Address Our Mess has local technicians with home improvement contracting licenses that will completely clean up the home and help the estate manager get in contact with a personal property appraiser.
This service makes the difficult estate management process a little bit easier. It can be complicated for both an attorney and a family member to handle everything involved in the process, but Address Our Mess is trying to make the process as quick and efficient as possible.
About Address Our Mess
Address Our Mess is a professional specialty cleaning company that handles hoarding, clutter, sorting, removal, and large organizational projects. The company has a mission to help give a fresh start to as many people as possible.