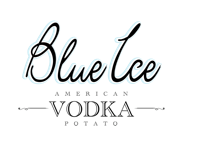 RIGBY, ID (PRWEB) June 06, 2017
Blue Ice Vodka, America's premium handcrafted potato vodka unveils its new packaging that reflects authenticity, simplicity and modernism of the brand. Blue Ice Vodka's liquid remains true to its original recipe.
While the new packaging has a fresh and modern aesthetic, many of its design elements were inspired by the brand's heritage. "Blue Ice Vodka has always been a premium product with rich history, so we're thrilled to be debuting a new packaging that invokes a true Made-In-America feel," said Thomas Gibson, President 21st Century Spirits.
Inspired by pre prohibition-era bottles, the new packaging features:

A simple and smooth exterior
A long neck for pouring ease
A sleek new label featuring the brand's logo, an inset embossment of Idaho's state emblem and an inspection seal with the Master Distillery's initials.
New label copy that notes the product is gluten-free and provides information about the ingredients and quality process
Embossed font around the base that states Blue Ice Vodka is produced in Rigby, Idaho
Made in the Idaho Russet region, one of the richest areas for potato crops, with pristine water sourced from the Grand Trenton Mountains, Blue Ice is one of the purest American-made spirits available. Handcrafted in the same place its potatoes are grown, Blue Ice Vodka uses nearly ten pounds of potatoes per bottle, giving tastemakers a creamy mouth feel with no burn. Blue Ice Vodka is the highest rated American Vodka with a score of 98 points out of 100.
Just in time for Independence Day, Blue Ice Vodka's new bottles will be distributed nationwide in June 2017. For more information, please visit http://www.blueicevodka.com
About Blue Ice Vodka
Founded in 2002, Blue Ice Vodka is the #1 selling handcrafted, premium, American, potato vodka in the country. Blue Ice Vodka uses continuous column distillation, combined with a patented five-stage filtration process making it among the purest products in the marketplace. Using only the highest quality ingredients - Idaho Russet Potatoes and pristine water sourced from the largest volcanic aquifer in the country, Blue Ice Vodka was designed for the vodka purist with a refined palate. At only 52 calories per ounce, the brand does not add sugar and is certified gluten-free and Non-GMO. Follow Blue Ice Vodka on Facebook, Instagram and Twitter.