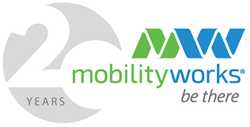 The mission in 1997 was the same as it is today. To provide wheelchair users with the independence and personal freedom to go where they want to go, and to do what they want to do.
Richfield, OH (PRWEB) June 01, 2017
MobilityWorks®, the nation's largest retailer of wheelchair accessible vans, is celebrating its twentieth year in business helping people with disabilities to travel in a vehicle that meets their personal needs.
In 1997, the industry of vehicle modifiers and equipment was very fragmented and the majority of business came from the commercial sector. There wasn't any quality oversight or dealer qualifications required to service or sell accessible vehicles to the consumer. A lot of the vehicle modifiers were inexperienced garage shops that made custom vehicles with hopes that each customized van would work for their client. The door height and interior space of minivans in 1997 weren't able to accommodate a wheelchair, so the majority of accessible vehicles were larger, retrofitted full-size vans.
Fast forward to 2017, and you'll find a very different industry. The inexperienced garage shops are gone. They've been replaced with quality manufacturers who build accessible minivans that are crash tested with lowered floors, automated ramps, securement devices, and kneeling systems. There are now industry standards, like the NMEDA QAP (Quality Assurance Program) certification process, that meet and exceed all federal and industry safety regulations to provide customers with safe and reliable adaptive transportation. Today, customers have the ability to go to a MobilityWorks location for a free needs analysis – and then test drive an assortment of vehicles that will meet their needs prior to purchasing.
"Our team is really focused on treating customers like family and trying to understand their situation, needs and desires, and then coming up with good solutions for them," said Bill Koeblitz, CEO and Founder of MobilityWorks. "The mission in 1997 was the same as it is today. To provide wheelchair users with the independence and personal freedom to go where they want to go, and to do what they want to do".
In addition to selling new and pre-owned modified vans for wheelchair accessibility, MobilityWorks also provides rental vans and adaptive equipment such as hand controls, turning seats and scooter lifts. Its TransitWorks division, led by principal and business partner Taylor Clark as TransitWorks' President, manufactures a variety of commercial vehicles for business clients throughout the United States. They are the largest modifier of commercial vans in the country specifically designed for wheelchair accessible transportation. The combined divisions employ over 950 people all over the country.
About MobilityWorks
MobilityWorks (aka WMK, LLC) is a Cleveland, Ohio-based Inc. 500 company that employs specially trained Certified Mobility Consultants to work closely with its clients to understand their specific transportation needs in finding the right vehicle solution. Founded in 1997 with one location, MobilityWorks has been recognized on the Inc. 500|5000 list of Inc. Magazine's fastest growing privately held companies for the past ten years. MobilityWorks Commercial is the largest provider of commercial wheelchair vans in the country. TransitWorks, located in Akron Ohio, is the manufacturing division of WMK, LLC and is Ford Motor Company's largest mobility upfitter. Learn more about MobilityWorks at http://www.mobilityworks.com.