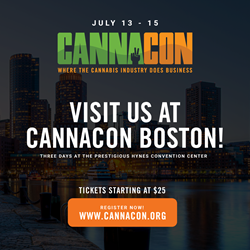 Boston, Massachusetts (PRWEB) June 01, 2017
CannaCon, the nation's preeminent cannabis industry convention, is gearing up for its biggest and best event to date. CannaCon 2017 Boston will be hosted over three days, from July 13th - 15th in Boston's historic Back Bay district at the Hynes Convention Center.
As a marketplace for cannabis-related education, innovative products, and businesses, the three-day conference provides an ideal platform for businesses and consumers. Anyone interested in the business of cannabis—from cannabis industry neophytes to seasoned industry professionals—will find plenty of learning and networking opportunities at CannaCon Boston. The schedule is jam-packed with a diverse group of speakers and events.
"We're excited for CannaCon Boston, our most exciting and fun event to date," said Bob Smart, founder of CannaCon. "While adult-use—or recreational—cannabis is legal in Massachusetts, CannaCon is serious about the business of cannabis. We're a cannabis convention without the cannabis. And, our goal is to bring together the best and the brightest of the industry for three days of immersive learning and networking."
Attendees Can Choose One of Three Pathways
Seminars are organized around three key points of focus or pathways:
Growers: Growers and cultivators can learn the basics of plant production and yield management with acknowledged industry leaders, or dive deep and get granular with seminars on topics like the practical use of microbes in cannabis cultivation.
Entrepreneurs: Entrepreneurs can learn about specific products—such as the explosively growing field of topical creams and oils—or take a step back and learn about higher-order business and marketing concepts.
Researchers: Scientists will find plenty of food for thought, whether it's sharing in the wealth of new cannabis research now becoming available or exploring specific topics such as safety testing, 3rd-party certification and more.
Conference Highlights
One of the most-anticipated events, the "InCannaVest Investor Pitch Boston 2017," makes its CannaCon debut on Friday, July 14, and Saturday, July 15, from 2:45pm EST - 3:45pm EST. A Modeled on the popular reality show, it's a chance for cannabis entrepreneurs to meet venture capitalists and pitch their cannabis-centric products and services.
CannaCon Boston will also concurrently host two events with Clover Leaf University:
Open a Cannabis Business Workshop: Thursday, July 13th, 2017, 11:00am EST - 6:00pm EST. CLU's one-day course will teach attendees everything they need to know about joining America's fastest growing industry. The cost $299, and attendees can register at Clover Leaf University.
CannaCon Clover Leaf University Job Fair: Saturday, July 15th, 2017, 11:00am EST - 6:00pm EST. Job seekers can register for free online at Clover Leaf University.
Other seminar highlights include:
"Using Microbes to Enhance Productivity," presented by Colin Bell
"Massachusetts Medical Marijuana Law," presented by Jody Lehrer
"Cannabis Topicals: How to Make your Own," presented by Laura Beohner
"Commercial Growing and Breeding," presented by Colin Gordon
"Testing / 3rd Party Certification," presented by Alec Dixon
"Free Weed! Growing Your Own Marijuana in the Era of Plant Limits," presented by Danny Danko
"Manipulating Your Plant for Maximum Yield," presented by Ellen Brown
To learn more event details and reasons why you should attend this year's 3-day long interactive gathering of like-minded cannabis professionals and peers, visit "Why Attend CannaCon Boston?"
To register, please visit http://cannacon.org/events/boston-ma/
To view the full list of seminars, please visit http://cannacon.org/seminars-boston/
Media can register for a press pass here: http://cannacon.org/press-media/
About Cannacon Conference
CannaCon is dedicated to creating and strengthening lifelong partnerships within the emerging cannabis industry. It is our mission to provide a global venue for Cannabis Businesses, entrepreneurs, Investors, and community partners to showcase industry products, people and innovations; to cultivate business values within the cannabis industry through education and responsible community involvement.