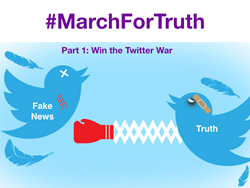 Truth Will Triumph Over Trump
Charlotte, NC (PRWEB) June 01, 2017
Dr. Botelho advocates for using the 25th Amendment to fire President Trump based on grounds of gross incompetency. (NY Times 4/7/17)
Watch and Share the Online #MarchforTruth Videos:
1. How Power Trumps the Truth
2. How Truth will Triumph over Trump
Truth-seekers and conscious capitalists must speak truth to political power. If Trump were a CEO (The New Yorker 5/16/17), the Board of Directors would ask him to resign based on his dysfunctional leadership, his toxic culture and the destruction of the USA brand.
Fake News is the abuse of free speech. (Pew Research Center 3/29/2017) Truth-seekers must help gullible voters liberate themselves from fake news. This calls for acknowledging what's true and false. 
Acknowledge Three Truths
1. People do not know the truth about Trump. (Indivisible 5/19/2017)
2. Trump makes false promises to everyday people that he cannot keep, such as affordable healthcare for all Americans. (80 broken promises in 100 days: Think Progressive 4/29/2017)
3. Trump supporters believe his fake news. (Independent 3/10/2017)
Learn from Trump's Use of Twitter Power.
Trump skillfully maintains his loyal minority by using his 30 million Twitter account. (Fortune 4/30/17) Trump's unified minority is more powerful than the fragmented silent majority.
How can the silent majority trust Trump if they do not know the Truth? If they cannot trust Trump with the Truth, how can Trump remain president? These questions call for launching a grassroots movement for the truth, competence and justice. Just imagine millions of people making this request starting on July 4th onwards.
Truth-seekers invite President Trump to resign with immunity provided that he gives full disclosure about:

#TrumpTaxReturns
#RussiaGate
#TrumpRussia ties 
Trump's response to this deal will depend on what he's hiding and what will be revealed. His refusal to accept this invitation will influence the mid-term 2018 elections.
Build the Case to Fire Trump
Special Counsel Robert Mueller will decide about whether to build a case about impeaching and prosecuting Trump and his associates. (CNN 5/18/2017)
Formal proceedings will take a long time (New York Times 5/18/17), especially given that the GOP puts their party above the people.
Only the voices and the votes of the people can make the GOP come to their senses and put our republic above their party. (New Republic 2/1/17)
How much worse does Trump's incompetence have to deteriorate before truth-seekers persuade the GOP that enough is enough? What will be the final straw to break the bonds of blind unconditional loyalty?
Truth-seekers advocate that the GOP use the 25th Amendment (NY Times 5/18/17) to remove Trump based on his incompetence, his fake news addiction and his character flaws: sociopathy, narcissism and megalomania. (Huffington Post 8/3/16)
Catalyze Social Media Chain Reactions to #FireTrump
1. Share the videos #MarchforTruth: #WintheTwitterWar (Part 1) and (Part 2)
2. Use Facebook, Twitter and Tumblr accounts to sign up to #InviteTrumptoResign for a social media blast on July 4th. 
3. Invite people and organizations with large social media reaches to sign up to this campaign using their Facebook, Twitter and Tumblr accounts."