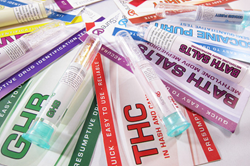 "Ultimately our decision to rebrand was fueled by the desire to reach a growing audience of health-conscious people so they can protect themselves and their loved ones."
(PRWEB) June 01, 2017
TestSure, a leading source on the web for drug tests and reagent test kits, has undergone a massive brand overhaul to offer more products, similar to but also very much different from their current product line. In a very interesting shift from offering products like MDMA test kits and drug test cups, the newly redesigned website now offers a wide range of testing and diagnostic supplies including water test kits, pH test strips, aquarium test kits, pool test strips, UTI strips, ketone strips, and urinalysis strips. TestSure will still carry its current line of presumptive drug test kits and urine drug tests along with this new line of products.
Louis Klarevas, TestSure founder and CEO, said of the new website launch: "TestSure was founded with the health and safety of our customers in mind, and it was this principal that led us to decide to lay out a new product line and relaunch the website."
Indeed, the company's mission has always been to protect the health and wellbeing of their customers. TestSure's success in this mission by offering drug and reagent test kits is what has allowed the site to expand its product line, empowering customers even further to take control of their health.
Klarevas continued: "Ultimately our decision to rebrand was fueled by the desire to reach a growing audience of health-conscious people so they can protect themselves and their loved ones." Along with Klarevas, the TestSure team hopes this redesign and expansion attracts customers with more diverse health needs. Since its founding, the site has offered customers test kits to control the substances and contaminants that make their way into their homes. Now, TestSure customers are invited to purchase accurate, safe, affordable self diagnostic supplies without having to make a trip to the pharmacy.
When asked what's next for the brand, Klarevas said, "We'll have to wait and see. The response to these new products has been so positive, we may continue to explore more health test kits and self-diagnostic supplies. Or, maybe we'll start to branch into medical supplies."
However TestSure continues to grow, it is interesting how they're able to make such a dramatic shift in product line, and it goes to show how consumer's needs are evolving.