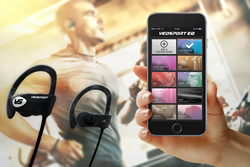 "After buying over five different bluetooth earphones in just one year, I noticed that each one was missing key features. So I decided to create an affordable wireless earphone with mass appeal." - said Veosport creator Garrett Marchesano.
Sacramento, California (PRWEB) June 01, 2017
Veosport to launch Kickstarter campaign to raise funds for release of bluetooth earphones. Veosport has created feature-rich earphone that combines the latest technologies with comfortable and attractive design.
Veosport (http://www.veosport.com) is introducing a crowdfunding campaign to raise funds for the Veosport V1 Wireless Bluetooth Earphones. The ergonomic, minimalistically designed stereo earphones, which come in either black or white, are equipped with Bluetooth version 4.1. The earphones' multi-point function can connect two mobile phones at the same time. They are integrated with voice-prompt technology that can be used to control power, answer incoming calls, and connect with universal compatibility.
A powerful mobile app connects seamlessly with the bluetooth earphones. Users can use the app to adjust EQ settings for custom sound, or choose from the stock sounds available. The app can be used to control music, podcast, and voice call settings. There are three features that make them better than the rest:
1) Comfort / Fit - Consumers or tired of having earbuds that either fall out while running, or are uncomfortable. Everyone's ears are different, so the V1's offer nine fit options including S, M, L comply foam, triple flange, and silicone earbuds.
2) Sound - There's no way around great sound. Some people want bass, some want more treble, and the earbuds currently on the market do not allow you to adjust EQ settings specific to the user. Veosport set out and created a custom app so you can have any EQ setting and sound quality you want!
3) PRICE- Last but definitely not least, there's price....To put it bluntly, Veosport kills the competition on this. Consumers looking for "quality" earbud brands like Bose and Jaybird, end up paying up to $150. The Veosport V1 retails for $75, but early bird backers can get them for $49.
The Veosport V1 Wireless Bluetooth Earphones will be available for presale on Kickstarter (25% off) beginning June 1st – July 10th for early bird backers. View the campaign online at http://kck.st/2qkrJBo.