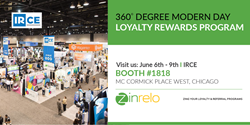 We are excited to be attending IRCE 2017 to showcase the many powerful features of the Zinrelo loyalty rewards program. - Jai Rawat, CEO at Zinrelo and frequent IRCE speaker.
Sunnyvale, CA (PRWEB) June 01, 2017
Zinrelo announced that it will be participating at IRCE 2017 from June 6th - 9th for the fourth consecutive year. The conference will be held at McCormick Place West, Chicago, with Zinrelo exhibiting its loyalty rewards and referral programs at booth number 1818.
Zinrelo focuses on delivering the very best platform for loyalty rewards and referral programs. The company's enterprise-grade solutions help to maximize customer acquisition, engagement and retention through 360-degree customer interaction. On an average; the loyalty rewards program generates 2.4x more per-customer revenue, and an 80% increase in repeat sales frequency.
Zinrelo will showcase its flagship loyalty rewards program at IRCE 2017. The program is a highly flexible, omni-channel (desktop web, mobile web, mobile app and in-store) solution with powerful features that include API access for unlimited customization, a business rules engine, mobile SDK, ROI-based reporting and a high degree of scalability. This dynamic customer loyalty program is easy to integrate into existing websites, where it can be used to turn shoppers into fiercely loyal customers. In addition, the program offers attractive pay-as-you-go pricing based on the client's desired requirements and the number of enrolled loyalty members.
Companies can use the loyalty rewards program to reward their customers not only for purchases, but also for referrals, account creation, email signups, photo sharing, reviews, social advocacy, and more. These reward activities are fully customizable, as are the loyalty tiers and redemption options. Zinrelo also provides a dedicated customer referral program for businesses to acquire new customers.
"We are excited to be attending IRCE 2017 to showcase the many powerful features of the Zinrelo loyalty rewards program," commented Jai Rawat, CEO at Zinrelo and frequent IRCE speaker. "IRCE will present a unique opportunity for online retails to experience the system and understand how our smoothly integrated, 360-degree solution can enhance their business' potential."
Zinrelo looks forward to meeting and interacting with thousands of retailers and attendees at IRCE, sharing its valuable insights into the world of retail, ecommerce and customer loyalty. IRCE 2017 attendees can visit the Zinrelo website and register for a one-on-one meeting with the executive team to learn more about the company's innovative solutions.
About IRCE:
Internet Retailer Conference & Exhibition (IRCE) provides a conference full of industry experts, an exhibition hall filled with the latest and greatest solution providers, and a community made for networking with thousands of like-minded industry peers. E-Commerce is evolving faster than ever and it's essential for companies that want to stay ahead to have access to the right solutions. IRCE 2017 will take place in the world-class city of Chicago, June 6-9, at McCormick Place West. For further details, visit http://www.irce.com.
About Zinrelo:
Zinrelo brings you the world's best loyalty rewards and referral programs, helping to maximize revenue per customer and new customer acquisition through 360-degree customer engagement. It supports omni-channel interactions including desktop web, mobile web, mobile apps and in-store engagements.
Zinrelo loyalty rewards program boosts per-customer revenue by 2.4 times and repeat purchases by 80%. It creates fiercely loyal customers that are rewarded for all forms of engagements including purchases, social advocacy, reviews, sign-ups, referrals, photo sharing and more. It is fully customizable and is easy to deploy. Zinrelo referral program delivers a 25% uplift in new customer acquisition by converting your customers into brand ambassadors.
To zing your loyalty and referral programs, contact Zinrelo at http://www.zinrelo.com or info(at)zinrelo(dot)com