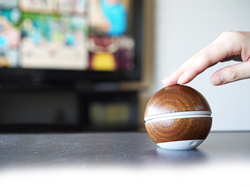 "Hale Orb is the only physical object on the market that is dedicated to controlling digital photo and video viewing for the family."
SAN FRANCISCO, Calif. - June 1, 2017 (PRWEB) June 01, 2017
Hale Orb, a smart device for the home that enables users to scroll through unlimited images and videos on a TV screen, is now available for pre-orders on IndieGoGo. The wireless, spherical-shaped remote control blends technology and design, and works in a simple and elegant way, making it fun and easy for everyone in the family to upload, share and view unlimited photos and videos. Hale Orb features a single push button, scrolling wheel and gorgeous UI design that looks as great as it feels when browsing through family memories, and lights up when new content is added.
"At the core, we want to allow families and close friends to share moments they might be missing out on, in a non-intimidating and low-friction way," said Ken Miura, founder and CEO of DouZen, creators of Hale Orb. "We created a fun and easy way to share photos and videos, while also eliminating the pain point of having to teach older or non-tech savvy family members how to navigate social media channels, in a safe and private place only meant for a select few."
The Hale Orb solution combines hardware, software and cloud. A small HDMI stick plugs into the TV & installs Hale Orb, and uses a local Wi-Fi connection to stream images onto the TV. There are many ways to share photos to Hale Orb, but using the companion app for iOS and Android is one of the simplest and most convenient ways to upload what's already on a smartphone. Users can also automatically sync photos and video directly to Hale Orb from all the places they typically store or share content including Google, Dropbox, Facebook and Instagram, as well as via email.
"Few companies have done a good job with photos in the Internet of Things (IoT) movement," said Julian Orbanes, Co-Founder and User Interface Architect at DouZen. "In fact, Hale Orb is the only physical object on the market that is dedicated to controlling digital photo and video viewing for the family. Hale Orb also works with connected home solutions like Amazon Echo and Google Home, and features a dynamic scrolling interface that is unlike anything you've ever seen."
"At the Association of Personal Photo Organizers, I work with many photo organizers around the country who help their clients bring order to the photo chaos that exists in their lives." said Cathi Nelson, the founder of the national organization APPO. "Hale Orb is a wonderful new solution for photo organizers and their clients, with its functionality designed specifically for home photo usages. There is plenty of available cloud storage to keep all their family memories in one place, where they can be enjoyed in a new and elegant way. The Orb itself is beautifully designed and looks great in any home. It is really simple to setup and use too."
The Hale Orb photo experience includes:
Orb - The spherical shaped hardware component serves as a beautiful yet functional remote control for viewing pictures and videos on a TV. With a scrolling wheel and push button, tap the Orb to turn it and the TV on. Receive notifications (lights and sound) when new photos have been uploaded or viewed by another family member.
Stick - The "brains" of the experience, the Hale stick plugs into the HDMI port on a TV and acts as a computer. Depending on the TV model and configuration, it can automatically detect the correct TV input and connect to Wi-Fi, serving as a constant Internet connection.
Hale Central (Cloud Service) - Unlimited storage for images. Additional video storage options are available for a minimal cost.
Hale Orb App (iOS, Android) - Free companion app makes it easy to upload photos and videos directly from a smartphone.
Hale Orb is now available for pre-orders on IndieGoGo. The campaign will run through June 30, 2017 and features early bird packages and deals at every price point, starting at $99. At launch, the planned MSRP for Hale Orb is $199 for standard units and $399 for higher value wooden designs. Visit http://www.haleorb.com to register for email updates and additional product information.
About DouZen
Founded in 2015 with offices in San Francisco and Boston, DouZen is an innovation company that specializes in making connected smart appliances with great user interfaces for the home. Its first product is Hale Orb, a new photo experience that provides true instant access and ease of navigation through thousands of images. For more information visit http://www.haleorb.com.