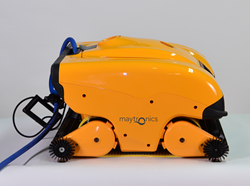 Americans have increased their travel-related spending to $986 Billion annually.
Atlanta, GA (PRWEB) June 01, 2017
The prospect of traveling to a resort or theme park in search of Summer fun can be exciting in itself. Yet, preparing for guests' arrival can be taxing on commercial pool owners and operators.
Since 2009, notes the U.S. Travel Association, Americans have increased their travel-related spending to $986 Billion annually. That includes money spent in the Resort, Recreation and Amusement sectors—which recently trimmed staff to reduce operating costs. With fewer hands on deck, Maytronics U.S. is proud to offer a solution.
Its Wave line of commercial robotic pool cleaners makes easy work of resort and theme park pool maintenance, delivering a hygienic clean and a standard of safety both staff and guests appreciate. The Wave 200 XL, in particular, is a great option for most pool owners and operators who are working with revised budgets.
"Summer is a very exciting time for guests," explains Steve Skura for Maytronics.
"Still, our goal is to increase the fun factor and reduce the hassle for everyone concerned. Our drop-and-go Wave line of robotic pool cleaners does just that, freeing up small commercial pool maintenance teams so they can shift their time and attention toward increased guest comfort and safety."
Wave 200 Pro class pool cleaning robots are affordable, highly-effective and eco-friendly. So much so that they are the robotic pool cleaner of choice for thousands of country clubs, hotels, spas, swim complexes and theme parks worldwide—including Disney, YMCA, University of Michigan and U.S. Navy properties. The Wave 200 XL offers wall-to-wall cleaning for wide ranging pool shapes and sizes, achieving crystal clear results with minimal downtime.
"No one goes on vacation hoping to wait around for the pool to open," adds Skura. "Nor should they."
Several key features boost the scanning, brushing and filtering capabilities of these nifty little pool robots:

Precise Movement – with gyro- and compass-led operation
Auto Cable Release – for a safe and unencumbered experience
Clog-Free Filtration – cyclone spiral, coarse and ultra-fine filters
Bypass Mechanism – recognizes and navigates around obstacles
Remote Control – responds to commands from within a wide area
Programmable Tracking – line-by-line, crisscross and maze algorithms
Spiral Water Flow – spins water in, up and out for efficient run times
Enhanced Active Brushing – dual spiral and side brush technologies
Fully-automated operation, top-access filter layer separation and on-board Multi-Media Interface (MMI) controls further enhance operation and reduce the need for user intervention. Compliant with Virginia Graeme Baker (VGB) Pool & Spa Safety Act regulations, the Wave 200 XL makes mid-sized commercial pool maintenance a breeze.
This series is considered best in its class for a reason. Click here to watch the Wave 200 XL in action and then contact a Maytronics Elite Dealer to request a live demonstration.