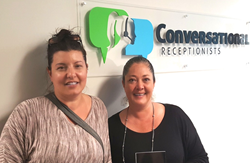 Congratulations to the PEI Wave on a fantastic championship win and end to the season! - Tanya Lamont, CEO
New York City, NY (PRWEB) June 01, 2017
The PEI U16 Wave ringette team took home the gold medal against Team Quebec in the 2017 Eastern Canadian Ringette Championships. Conversational, a virtual receptionist and virtual assistant provider, has sponsored the U16 provincial ringette team, the PEI Wave, since 2016.
The company chose to sponsor the local team because many employees enjoy and follow the sport of ringette, a female-oriented sport that Cogeco describes: "Ringette combines the speed of hockey, the team play of soccer, and the fast transitions of basketball and lacrosse."
Conversational proudly sponsored the PEI Wave again this year as the team picked up tournament wins against Ontario, Quebec, Nova Scotia, and the Host Team, earning them an undefeated record. The Wave played well this season, winning gold medals at both the Miramichi and Pierrefonds high-performance tournaments.
Conversational's financial sponsorship of the team was used to help the team with rising uniform costs, team activities and events costs, and travel arrangements and expenses. Conversational CEO Tanya Lamont was excited to meet with a team representative earlier this week, bringing a team photo taken after the championship gold medal win and a thank you note from the entire team for the company's sponsorship and support.
"When the company sponsors a team, organization, or individual, it's because we fully support that team or individual - win or lose. But it's undeniably a wonderful thing when the sponsored team reports a gold medal championship win! If this sponsorship helped the girls get to that gold medal in any way - through helping with uniforms, travel costs, team activities, etc. - it was absolutely worth it. So congratulations to the PEI Wave on a fantastic championship win and end to the season!" - Tanya Lamont, CEO, Conversational
Conversational enjoys volunteering and sponsoring local teams, organizations, and individuals. In the past, the company has sponsored MMA fighter Lenny "Show Stealer" Wheeler and donated to local charity Santa's Angels, as well as donating to the PEI Big Brothers Big Sisters organization through the annual Bowl for Kids Sake program.
Conversational is a virtual receptionist and virtual assistant provider for all types of small and medium businesses, from attorneys to medical offices. The company offers three virtual receptionist plans, ranging from 100 to 500 receptionist minutes per month, and three virtual assistant plans, ranging from 10 hours per month to 40 hours per month. More information on pricing and plan details can be found on the Pricing page.