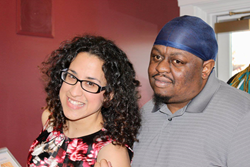 In 2016, 496 volunteers donated over 26,550 hours of service to the agency
Hartford, CT (PRWEB) June 05, 2017
The Connecticut Community for Addiction Recovery (CCAR) came together to celebrate the 12th Annual Volunteer Recognition Dinner at Hawk's Landing Country Club in Southington CT. Each year, CCAR staff sets aside a night to honor the volunteers that keep the organization alive. In 2016, 496 volunteers donated over 26,550 hours of service to the agency in a variety of different ways such as reception work, telephone recovery support, recovery coaching, and community outreach. CCAR volunteers are an integral piece to the agency and work directly with staff and the community to keep the recovery community centers running smoothly.
Volunteers from all three of CCAR's recovery community centers (Bridgeport, Hartford, and Willimantic) as well as the Young Adult and Family Project were present for the evening. They were joined by their guests, CCAR staff, board of directors, and volunteer consultants. The final count resulted in a diverse crowd of 170 people ready to appreciate and give thanks to the outstanding commitment the volunteers made to the agency.
Conrad Sienkiewicz, Volunteer Manager, hosted for the evening and brought the audience through a stellar program that included remarks of appreciation from CCAR's Executive Director Phil Valentine, Board President Cheryl Mallow, and DMHAS Commissioner Miriam Delphin-Rittmon. Volunteer Jamaal Minott followed them up with a beautifully sung "The Impossible Dream" by Richard Kiley.
CCAR then honored volunteers with Bronze, Silver, and Gold awards which are for 100, 250, and 500 hours respectively. CCAR's three volunteer coordinators, who work most closely with the volunteers in the recovery community centers, each spoke for a few minutes about their appreciation for their volunteers. Fifty-four volunteers were Bronze recipients, thirteen received Silver awards, and six received Gold Presidential Volunteer Service Awards. Jay Osborne dedicated the most time to CCAR with 1240 hours in 2016 and is now employed with the agency as a full-time Emergency Department Recovery Coach. As Sienkiewicz perfectly expressed, CCAR gives its volunteers the opportunity to "turn passions into paychecks." Each award came with congratulatory White House pins and two certificates, one from CCAR and another from the state Attorney General George Jepsen. A buffet dinner followed the ceremony. After dinner was served, all attendees danced the night away to two hours of music played by DJ Michael Feliciano.
About CCAR: Since 1998 the Connecticut Community for Addiction Recovery (CCAR) has organized the recovery community (people in recovery, family members, friends and allies) to put a face on recovery and to provide recovery support services to help sustain recovery. By promoting recovery from alcohol and other drug addiction through advocacy, education and service, CCAR strives to end discrimination surrounding addiction and recovery, open new doors and remove barriers to recovery, maintain and sustain recovery regardless of the pathway, all the while ensuring that all people in recovery, and people seeking recovery, are treated with dignity and respect. CCAR envisions a world where the power, hope and healing of recovery from alcohol and other drug addiction is thoroughly understood and embraced.