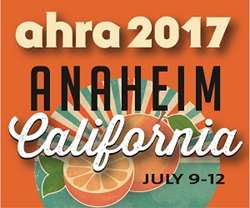 Anaheim, CA (PRWEB) June 02, 2017
AHRA: The Association for Medical Imaging Management is pleased to partner with leading companies in the imaging industry to present the exhibitor symposium line up for the AHRA 2017 Annual Meeting in Anaheim, CA, July 9-12.
"Thanks to these strategic partnerships, attendees can enjoy educational sessions that cover the most up-to-the-minute industry topics and issues," said Jason Scott, CRA, FAHRA, AHRA 2017 Design Team Chair. "Because they're provided in an intimate setting, symposiums offer a unique opportunity to get up close and personal with experts that are on the leading edge of what's trending in our industry."
The following symposiums are offered at no additional charge to attendees and all offer ARRT Category A CE credits:

Understanding Clinical Decision Support (CDS) Requirements for Medical Imaging
Presented by: George Fuller – Sponsored by Siemens Healthineers
Neuroimaging of the Pediatric Population: Current Practices and Looking Towards the Future
Presented by: Dr. Donna R. Roberts, MD and Charles Stanley –Sponsored by Guerbet
Cybersecurity Is Easy! (Except for the Humans)
Presented by: Drex DeFord, BS, MPA, MS - Sponsored by Sectra
Patient Centric MR Imaging: Innovative Imaging Strategies
Presented by: Lawrence N. Tanenbaum, MD, FACR - Sponsored by Hitachi
Addressing Musculoskeletal Pathologies with ALARA Imaging
Presented by: Jamie Milas, Jeff Moirano, MS, DABR, Barbara Drozdowski, Cicil Chamakalayil, R.T.(R)(MR) - Sponsored by EOS Imaging
Optimizing Breast Cancer Detection, Departmental Efficiencies, and the Patient Experience.
Presented by: Gregg R. Cretella and David Wild - Sponsored by Fujifilm
"We truly appreciate the support and partnership of our vendors to bring these symposiums to life and add extra value to our annual meeting," said Jason Newmark, AHRA President. "Our members value these opportunities and pack the conference rooms every year. It's a very special element to our conference experience and we're thrilled to have another great selection of presentations for AHRA 2017."
More details on AHRA's exhibitor symposiums and annual meeting, including registration, can be found at http://www.ahra.org/AnnualMeeting or by contacting AHRA member services at 978-443-7591.
About AHRA: The Association for Medical Imaging Management
AHRA is the professional organization representing management at all levels of hospital imaging departments, freestanding imaging centers, and group practices. Founded in 1973, AHRA's 5000+ members reach across the country and around the world. AHRA offers a complete slate of professional development programs, including a comprehensive selection of educational conferences and seminars, networking opportunities, award winning publications, and the Certified Radiology Administrator (CRA) credential. More details about AHRA are available at http://www.ahra.org