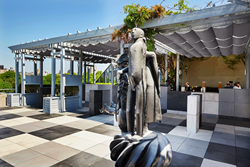 "We're highly honored to have Infinity Canopy incorporated in an art exhibition, both for its appearance and its function,"
Los Angeles, CA (PRWEB) June 06, 2017
For this year's edition of the annual commission, the artist reconfigured the environment of the Cantor Roof by adding a new pergola, a bar, a grand tiled floor, public benches and augmented plantings throughout the space. In this welcoming setting, replicas of over 100 pieces from the Met's collection are joined to form an experience that encompasses thousands of years of artistic production over several continents and cultures. The Infinity Canopy was selected to cover the bar area, both for visual design and to protect the bar and its visitors from the elements.
"We're highly honored to have Infinity Canopy incorporated in an art exhibition, both for its appearance and its function," stated Infinity Canopy's inventor Alan Shargani. "The Met is one of the most visited and most prestigious art museums in the world, and we are delighted to be able to enhance the appearance and function of their annual roof garden commission."
Infinity Canopy is a highly versatile, patented modular canopy system that visually recalls classic Roman shades. The retractable, slide-on-wire canopy adds shade, rain protection, and ambiance to any space. Unlike other canopies and shade systems that are one piece and can't be modified after fabrication, Infinity Canopy is comprised of individual shade panels that connect together to create a canopy of any length, in one or multiple colors. Every aspect of Infinity Canopy can be easily changed, even after installation, allowing it to be lengthened, shortened, and modified into new configurations and designs not possible with any other shade system. Shade modules can easily be switched or re-arranged to match changing décor, or even to complement the changing seasons.
The Met's 40'x34' Infinity Canopy, featuring Sunbrella Firesist fabric, was custom fabricated and delivered within one week from the order date, meeting a tight deadline for installation and subsequent opening of the exhibit. However, after installation, it was discovered that the plans given to the fabricator were wrong, and the canopy was two feet shorter than the actual size of the trellis. Due to the unique modular design of Infinity Canopy, an extension could be quickly manufactured and overnighted to the museum, allowing it to be installed by the museum's staff in time for the opening. This easy modification stands in sharp contrast to conventional canopy systems, which would have required re-manufacture of the entire canopy at considerable cost and time delay.
Installation was provided by the local Infinity Canopy dealer, GSS Awning of NY. Infinity Canopy is available in standard sizes and colors for rapid delivery throughout North America, supported by a broad network local dealer/installers. Custom sizes, colors and fabrics are available with slightly longer delivery times.
About Infinity Canopy
Infinity Canopy is the originator of the modular canopy system. Created to provide a flexible and versatile retractable canopy system that is inexpensive, fast to fabricate, and easy to install, modify and repair; Infinity Canopy has multiple patents and won numerous awards for its innovative approach and durable, long-lived design. Infinity Canopy is available in 22 standard colors and fabrics plus custom shades in virtually any fabric or color, and is suitable for both commercial and residential applications.
For more information visit http://infinitycanopy.com/themet. For high resolution images and to arrange interviews, contact Mona Cohen info(at)infinitycanopy(dot)com 844-422-6679