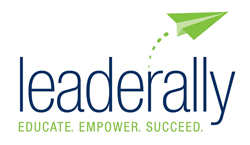 We believe that student success starts with strong, professional teachers.
Morristown, NJ (PRWEB) June 01, 2017
On May 28, 2017, the Washington Post reported about a DCPS school where nearly one quarter of teachers quit their jobs between September and January. Teachers, for several serious reasons, are leaving their posts mid year, which is incredibly disruptive to the school and to individual students. Leaderally, a professional development services company, is not surprised by these numbers. We know what educators, specifically brand new teachers, are asking for but often not getting in terms of consistent, ongoing support from day one of their new jobs.
We understand what teachers go through. Teaching is incredibly intense, exhausting and all encompassing. Those teachers who quit this year did NOT want to make that choice. They felt it was the only choice left. As stated in the article, "Every teacher, no matter how successful they are at their job, knows that leaving mid-year is a really unkind thing to do to kids and the school. If they are doing it, it's out of anger, or an overwhelming sense that you are not doing anybody any good by staying," said Kate Walsh, president of the National Council on Teacher Quality.
Co-founder, Liz Szporn, says, "School leadership is overwhelmed with all they must do on a daily basis to keep the school running as well as keep students engaged and at school. New teachers, those most at risk for resigning, are often left to feel that they should know how to teach, manage a class and manage all the emotions and issues that walk into their class every day." This unrealistic expectation, paired with little to no regular professional support, leaves teachers mentally and physically drained with a feeling that they are are not making any difference.
Leaderally believes that there is a way to fix this problem:

We believe that student success starts with strong, professional teachers. By focusing on consistent, weekly development in areas like communication, leadership, classroom and behavior management, and teaching strategy, teachers are able to implement these skills into their daily routine, which can change the dynamic of the classroom quickly.
School leaders have very full plates. There are outside options for regular professional development that schools need to utilize so that new teachers feel like the professionals they are. Professional development for new teachers is a priority and cannot fall to the bottom of the list.
About Leaderally: Leaderally is a professional services company based in Morristown, NJ. Started in 2017, Leaderally has grown out of 60 combined years of experience developing new leaders in the field of education and sales. Leaderally is focused on elevating the profession to ensure that all educators feels successful and ready to take on the career they chose, which ultimately affects the future of every individual in our nation.