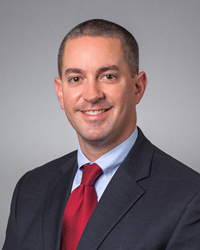 (PRWEB) June 01, 2017
Nationally recognized, growth-oriented accounting firm Cherry Bekaert LLP ("the Firm") is excited to announce the promotion of Christopher "Chris" Rux to Managing Partner of the Firm's Tampa Bay practice. Rux served as an Audit Partner with Cherry Bekaert prior to his promotion.
Rux has been with the Firm since 2008, and currently serves as leader of its Florida Technology and Health & Life Sciences Industry Group. His experience includes guiding clients in the technology, life sciences, industrial, hospitality, entertainment and government contracting sectors. Rux's assistance extends to diverse accounting matters such as revenue recognition, reporting requirements, audits and Sarbanes-Oxley compliance. Before joining Cherry Bekaert, he was an assurance and business advisory associate at a large international accounting firm, working primarily on audit and attestation engagements.
"For nearly 10 years, Chris has played a pivotal role in the growth of our central Florida practice and development of the Firm's Florida Technology and Health & Life Sciences group," said Kip Plowman, Cherry Bekaert's Managing Partner of Strategic Growth. "Chris' promotion reflects his dedication to serving clients in the Tampa Bay area, and I look forward to collaborating with him to extend Cherry Bekaert's footprint in the Florida market."
Rux is a Certified Public Accountant licensed in Florida and Alabama. He received his undergraduate degree at Tulane University, and later completed the Master of Accountancy program at the University of Alabama. In addition, Rux maintains close ties to the Tampa Bay community through his involvement with the Tampa Bay Technology Forum, the Florida Venture Forum, Leadership Tampa, The Tampa Connection, and the Suncoast Chapter of the Make-A-Wish Foundation.
About Cherry Bekaert LLP
As a nationally recognized, growth-oriented firm, Cherry Bekaert has the resources to take your business as far as you want to go. The Firm's industry specialists already know your marketplace, so they can help you make the most of emerging opportunities while minimizing compliance headaches. With their down-to-earth style and wealth of practical advice, you will find Cherry Bekaert an indispensable part of your team.
Ranked among the largest accounting firms in the country, Cherry Bekaert specializes in offering solutions that impact their clients' ability to grow. For more than 65 years, global corporations, private businesses, government entities, nonprofits, emerging firms and successful individuals have relied on Cherry Bekaert to guide them forward as their growth partner.
Cherry Bekaert LLP is an independent member of Baker Tilly International. Baker Tilly International is the world's 8th largest accountancy and business advisory network by combined fee income of its independent members. Baker Tilly International member firms specialize in providing accountancy and business advisory services to entrepreneurial, growing businesses and mid-market listed corporates worldwide. | cbh.com