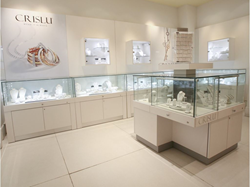 Our main approach [...] has been to make booth attendees feel comfortable by putting them in a familiar-looking, high-end retail environment.
Las Vegas, NV (PRWEB) June 02, 2017
When companies come to the CosmoProf cosmetics and beauty products expo, they know how important it is to look their best. Yes, that means that each employee's hair and makeup must be on point to make a good impression, but more importantly it means that each exhibition booth must be dressed to the nines.
Competition for attention on the busy convention center floor is extremely tough, and first impressions matter. Organizers of the show call it "the single most important networking opportunity in the United States for all sectors of the global beauty industry." Major deals are made all the time in the suites high above the show floor, and the seeds of major industry moves are often planted here, too.
"Cosmoprof North America is the launchpad for innovative products from indies and start-up brands alike with close to 1,200 companies coming from 37 countries," explains CPNA marketing director Daniela Ciocan.
This year's CosmoProf event is being held from July 9 to 11 at the Mandalay Bay Convention Center in Las Vegas, Nevada. When getting ready, beauty companies from all over the world are pulling out all the stops to represent their company and their products in a flattering light.
To accomplish that goal, they need a great-looking trade show booth that can still somehow fit in their budget. Since schlepping a display halfway across the world is not exactly cost-effective, many companies turn to local trade show booth companies in Las Vegas, Nevada, like Xibit Solutions.
"Just like their clients, companies come to us wanting to look professional yet approachable," Richard Spinella, Founder and Owner of Xibit Solutions, reveals. "Our main approach to meet these goals has been to make booth attendees feel comfortable by putting them in a familiar-looking, high-end retail environment."
Indeed, when looking at many of the successful past booths Xibit has assembled for CosmoProf, one might instantly recall a salon in Beverly Hills or London's SoHo. Marbled tile floors and an eye-catching angular architecture mix both old and new, all while positively dripping with elegance.
Companies like Xibit Solutions also help out-of-towners adjust to the hectic schedule and demands of CosmoProf. "We run logistics for a few dozen booths every year, and we almost always end up finding ways to help clients save on overhead," reveals Spinella.
One of the major ways they assist is in keeping up-to-date with all the convention center demands. For instance, Spinella helps clients avoid seemingly innocent mistakes that can lead to hefty fines on your exhibition bill. "You lean a crate up against a wall at Mandalay, that can be a fine. You try to bring in your own food, that's another fine." Smiling, he adds, "And don't even think about bringing a Mylar balloon anywhere on the property!"
From booth rentals to installation/dismantle to commissioned custom-projects, companies like Xibit Solutions are indispensable in helping beauty and cosmetics companies show off their good side and grease the wheels for lucrative contracts and partnerships. Anyone interested in seeing their past work can visit their gallery page at http://www.xibitsolutions.com/trade-show-display-gallery/.
About Xibit Solutions
Richard Spinella founded Xibit Solutions in 2001 after working for 14 years as a sales leader in the biggest trade show contracting company in the world. Spinella learned to construct his own booths for clients using mastery techniques. Since that time, Xibit Solutions has grown to become a market leader in the trade show industry both in terms of volume and quality of achievement.