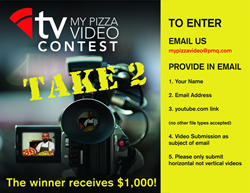 OXFORD, MISS. (PRWEB) June 01, 2017
PMQ, the world's authority on pizza, invites pizza makers and pizza fans to share their love of the world's most popular food in the My Pizza Video Contest: Take Two.
Pizzeria owners, pizza chefs, pizza fans and videographers have the chance to win $1,000 by entering in PMQ Pizza Magazine and PizzaTV's second annual video competition, "My Pizza Video Contest: Take Two." Contestants can participate by submitting their best marketing or promotional video crafted to attract more customers. The deadline for submissions is July 15, 2017.
PMQ and PizzaTV's panel of judges will select the winner based on one key criterion: Which video is most likely to help the pizzeria attract more customers and sell more pizza? The contest is open to the public and encompasses all type of creative expression using video. From a three-minute Youtube video to longer profiles and feature-length documentaries, contestants are free to experiment and craft their own unique message.
Visit PizzaTV.com/mypizzavideocontest2 to complete the entry form and find instructions on how to submit a video. Links to videos can also be submitted to mypizzavideo(at)pmq.com. To review last year's My Pizza Video Contest entries, visit pizzatv.com/mypizzavideocontest1.
About PMQ Pizza Magazine and PizzaTV
PMQ Pizza Magazine is the world's authority on pizza and the No. 1 business publication for the pizza restaurant industry. With 10 issues each year, PMQ reaches the mailboxes of 40,000+ pizza pros. PizzaTV, an online subsidiary of PMQ, reports on the world's most popular food, provides up-to-the-minute pizza news and showcases popular and innovative pizzerias around the country. For more information, high-resolution photos or video, contact Digital Media Specialist Heather Wilson via email at heather(at)pmq.com or call 662-234-5481, ext. 137. Visit PMQ online at PMQ.com and watch PizzaTV at pizzatv.com.