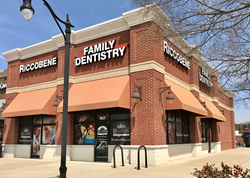 "Our priority is providing gentle, trusted dental care and treatment that meets our patients' needs and fits in their budgets," explains Dr. Riccobene. "We're excited to bring our brand of dentistry to our new neighbors."
Durham, NC (PRWEB) June 02, 2017
Riccobene Associates Family Dentistry, the Research Triangle's premier family-oriented multi-specialty dental practice, will open its first office in Durham on June 14, 2017. The office will be located at HWY 751 and NC 54 (in the Harris Teeter Shopping Plaza).
Riccobene Associates Family Dentistry, founded by Dr. Michael Riccobene in 2000, prides itself on its patient-centric care, state of the art dental technology, and commitment to ongoing education for its clinical staff. Building on these values, Riccobene Associates has grown from one to fourteen locations, earning "Best Dentist in Wake and Johnson Counties" awards from Angie's List and Cary Magazine for more than 10 years.
"Our priority is providing gentle, trusted dental care and treatment that meets our patients' needs and fits in their budgets," explains Dr. Riccobene. "We're excited to bring our brand of dentistry to our new neighbors."
The Durham office of Riccobene Associates will focus on comprehensive dental care, including general, cosmetic, and sedation dentistry. However, patients who need specialty care will have access to the full suite of services Riccobene Associates Family Dentistry provides, including orthodontics and endodontics, at its network of practices in the Research Triangle area.
Dr. Sree Nadella, DDS, will be the primary provider at Riccobene Associates' Durham office. A graduate of the University of North Carolina School of Dentistry, Dr. Nadella was born in Virginia, but grew up in Roanoke Rapids, NC. She has practiced dentistry in Georgia, North Carolina, and Arizona, and is thrilled to return to her home state to practice. She and her husband have two daughters, and love to spend time outdoors, playing games, cooking, and dancing together. On joining the Riccobene Associates team, Dr. Nadella explained, "I feel blessed to be able to use my education and skills to serve and improve the dental health of others, and it is an honor to be an associate for Dr. Riccobene. I look forward to serving your dental needs. I'm here for you!"
###
For additional information, contact:
Jeff Kovatch
Director of Marketing and Development
Riccobene Associates Family Dentistry
(973) 809-5466 Cell
jeff.kovatch(at)brushandfloss9dot)com