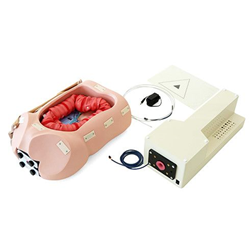 (PRWEB) June 06, 2017
Limbs & Things (in partnership with National Capital Region Simulation Consortium and the Uniformed Services University of the Health Sciences (USU) / Walter Reed National Military Medical Center Department of Surgery and Kyoto Kagaku) have posted a video on how the Endoscopy Training System platform works.
Starting in the 2017-2018 academic year, general surgery residents will be required to pass the manual FES exam. There is currently no standard training platform for the FES exam and failure rates have been estimated at up to 40%. So far, the research shows that 100% of residents who have used the ETS System using Dr. Ritter's curriculum have passed the FES exam.
The abstract currently published in Surgical Endoscopy also supports the conclusion that residents can develop the technical skills required to pass the FES manual skills exam. Post-training performance is similar to a clinical experience of around 300 endoscopies. The study also recommends the SBML curriculum by those looking for strategies to develop or remediate flexible endoscopy skills.
The Endoscopy Training System was created to teach the five essential skills needed to perform safe endoscopy – scope manipulation, tool targeting, retroflexion, loop management and mucosal inspection.
Limbs & Things launched the ETS System at SAGES in March. The trainer will also be on the Limbs & Things booth #217 at the American College of Surgeons Clinical Congress, October 22-26 in San Diego, CA.
Priced at $8,500 the trainer offers a cost-effective training platform for use within the hospital and training environment. The product is now available in the US and Canada.
*Development team: Lead by Dr E Matthew Ritter MD, FACS. Other initial development team members include Dr. Tiffany C. Cox MD, Dr. Kristen D. Trinca MD, and Dr. Jonathan Pearl, MD, FACS.
About Limbs & Things
Limbs & Things was established in Bristol, England in 1990 by medical artist Margot Cooper. The business focuses on the development, manufacture and sale of medical training products for healthcare professionals and students worldwide. They are committed to working in close collaboration with clinicians globally to produce realistic task trainers, that enable more competent and confident professionals, with the ultimate aim of improving patient outcomes and reducing medical error.
Limbs & Things have offices in the UK, US, Australia and Sweden, as well as partnerships with distributors worldwide.
For more information on Limbs & Things please contact Alice Hodges at alice.hodges(at)limbsandthings.com.
END