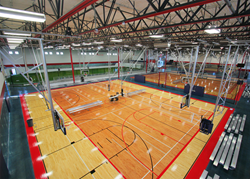 (PRWEB) June 02, 2017
Haldeman Homme, Inc. has expanded athletic services to the Southeastern United States. HHI Southeast Division will service Maryland, North Carolina, South Carolina, and Virginia, expanding its services to clients in education, athletic, healthcare, and industrial markets.
HHI is the exclusive partner of Porter Athletic Equipment in SC, NC, MD, and VA. HHI will extend its representation of Interkal Seating into North and South Carolina and is pursuing an athletic flooring partner. Steadfast Seating and Lyon Storage Systems are also joining the HHI family of partners.
The HHI Southeast Division will be managed by Brad Scott. Brad comes to HHI with an extensive background in athletic solution sales. He has been in the athletic products business for more than 10 years and was Porter Sales Person of the year in 2015. Brad is based out of Columbia, SC and services the states of North and South Carolina.
Haldeman Homme, Inc. partners with clients, designers, and builders through the application of solutions architecture. Solutions architecture is the practice of combining design, products, systems, and services that deliver a total facility solution to meet our clients' specific requirements and vision. Our clientele include contractors, architects, healthcare facilities, colleges, and universities. HHI provides design, sales and service of laboratory equipment, classroom and science casework, athletic flooring, storage equipment, filing systems, and technology education equipment and curriculum. You can find more information and a complete list of product solutions and partners at http://www.haldemanhomme.com