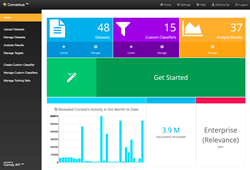 The best sentiment analysis I've ever seen, hands down. - Team Detroit
Boulder, CO (PRWEB) June 01, 2017
Converseon, a recognized leader in social listening and voice-of customer technology and insights, today announced the roll out of a new version of the award-winning AI-powered SaaS text analytics solution, Conversus 4.0. The announcement was made today at Big Boulder, the leading social data conference organized by Twitter.
Conversus puts the power of machine-learning directly in the hand of users via an intuitive and easy-to-use dashboard to quickly and reliably solve a critical challenge facing data-driven organizations: how to separate meaningful signals from the vast noise associated with unstructured social and VoC data to generate actionable insight and real business results. The technology provides new enhanced text analytics capabilities, high precision and recall to help unify social and VoC inputs for brands looking to fully leverage and model this data for enhanced customer understanding and centricity.
Conversus allows users to not only rapidly clean and normalize this noisy unstructured data, but also easily build machine-learning powered custom classifiers to fully unlock the value of social listening data. Examples of these classifiers include sentiment, emotion, intensity, advocacy, customer care, purchase intent, brand health attributes, customer care, predictive analytics and customer experience analysis. Its active learning approach enables users to go beyond basic text analytics analysis capabilities to custom tune the analysis to client requirements with human-level precision, but at the speed and scale only software can provide. Built upon Converseon's proprietary training corpus of millions of meticulously human coded training records gleaned over the last decade, Conversus also offers users the ability to access a wide range of off-the-shelf custom classifiers for key verticals including pharma, financial services, consumer products, entertainment, b2b, retail and more. Automated F1 performance scoring enables users to understand exactly the precision and recall of their classifiers, enabling this data to be used with confidence for reporting and modeling.
The core technology, named Dataweek's Top Innovator in Social Data Mining, can be used independently or in combination with many basic social listening solutions. In multiple studies, Conversus data has demonstrated predictive capabilities and provide a level data rigor and precision that has, until now, been absent from social and voice of customer analysis solutions.
"Conversus helps solve a key conundrum facing insight and analytics teams: in an era where customer experience is more important than ever, never before have brands had direct access to as much valuable and unvarnished, unstructured opinions of their customers and the market. Yet, until now, most of the real insight in that data remained mostly inaccessible because of poor data filtering and analysis," said Rob Key, CEO, Converseon. "Conversus changes that dynamic through an innovative AI approach that enables social, consumer and business insights teams, and others, to effectively process this data and accelerate their time to insight while finally unlocking the full pent up value of this information. It transforms social listening data from descriptive and reactive, to predictive and prescriptive. It is, quite simply, the most powerful, easy-to-use and cost affordable solution in the market." In addition to social listening data, other sources for Conversus analysis include survey verbatims, call center/focus group transcripts, customer reviews and more.
Key will also be speaking on a panel at the Big Boulder Conference on the impact of AI on social listening data.
Conversus 4.0 provides users with several key new capabilities:

Enabled in more than a dozen languages, including Mandarin, Japanese, Arabic.
Automated F1 scoring to clearly understand precision and recall performance, eliminating the "guess-work" by analysts and allowing data to be reported reliably.
Provides target and facet-level analysis, enabling the most granular and detailed annotation. This enables clear deciphering of challenging mixed sentiment.
Generates analysis levels far beyond just basic sentiment, including emotion, intensity, advocacy, trust/distrust, and more.
Provides users with the ability to rapidly create custom classifiers that eschew basic "Boolean" query techniques for rapid and better results.
Allows access to a growing library of classifiers already pre-built for use case and industry.
Includes industry specific classifiers for more than a dozen vertical industries including pharma, financial services, entertainment, hospitality and more.
Processes and analyzes not just social data, but other important unstructured voice of customer data essential to unify these data streams and understand the full spectrum of consumer opinions in near real-time.
Can be used directly, or in conjunction with many basic social listening platforms to provide an advanced layer of AI-powered analysis. Clients can also provide their own data directly.
Rapidly upload human coded data for immediate classifier creation, which can then be refreshed and improved through an active learning interface.
Conversus-generated data is being successfully used in quantitative models including market-mixed modeling, predictive analytics, brand health and more. For customer care, the solution was able to improve upon the data relevancy of an automotive company built customer classifier by more than 300 percent in less than two weeks compared to a traditional Boolean-based approach. Conversus is being successfully utilized by a growing array of leading brands and social listening, engagement and customer relationship management platforms.
"Conversus is clearly a compelling solution to help not only unify voice-of-customer and social listening data in a consistent manner, it helps break this data out its silo for critically important insights and analytics use," said Joel Rubinson, former Chief Research Officer at the Advertising Research Foundation and advisor to Converseon. "The ability to begin to model this data for quantitative and predictive analysis is certainly a game-changer for the insights and analytics industry."
For a free demo and trial of Conversus, please contact Converseon at sales(at)converseon(dot)com or visit Conversus 4.0 Demo
About Converseon:
For over a decade, Converseon has helped leading brands drive breakthrough business results through award winning social intelligence technologies, consulting and engagement services. During that period, it has gleaned an enviable reputation for innovation and excellence. Converseon was named leader in the Forrester Wave, Enterprise Social Listening in 2010, as well as Strong Performer in 2012 and 2014, where it scored overall highest for its consulting and analysis, data processing and sentiment analysis. Conversus.AI technology was named Dataweek's Top Innovator in Social Data Mining for its ability to "provide near human level precision at the speed and scale that only software can provide." The technology is also provided as a REST API in partnership with its wholly-owned, SaaS subsidiary, Revealed Context. For more information visit http://www.converseon.com or email us directly at sales(at)converseon(dot)com