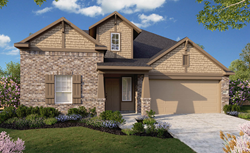 These plans fit the need for an emerging market looking for high-quality, affordable housing.
Dallas, TX (PRWEB) June 01, 2017
Gehan Homes has added a new brand focusing on the first time homebuyer and growing millennial market, with the launch of Gray Point Homes. The company is expanding its product and community portfolio to address what is becoming one of the biggest issues the Real Estate market will face in the coming years – affordability. The shift in demand has been created by more millennials entering the housing market, rising interest rates, and increased labor costs.
According to Realtor.com's Housing Forecast, millennials are expected to account for 33% of homebuyers in 2017. As rental rates continue to increase and credit conditions ease it is creating more demand at lower price points. Gray Point Homes is designed to target this segment with affordable homes featuring updated floor plans and the ability to personalize, while achieving lower monthly payments.
"Gray Point Homes will now be marketed in our first time/entry level communities. This brand will become synonymous with the same core values as Gehan Homes while providing market segmentation to address a maturing housing cycle", said John Winniford, Chief Executive Officer. "The brand will incorporate our new 30' and 40' wide product that has been developed over the last year. These plans fit the need for an emerging market looking for high quality affordable housing."
Gray Point Homes is introducing new communities across Texas, offering 14 floor plans and 42 elevations. The brand will launch in its first new home community in Houston at Balmoral, a 580-acre Land Tejas development, just off North Sam Houston Parkway and Woodland Hills Drive. Mostyn Springs, located in Magnolia, TX will soon follow. Gray Point will operate in all four Texas markets with another 18 communities scheduled to open over the next year.
About Gehan Homes
Gehan Homes, headquartered in Dallas, Texas, has been building beautiful new homes at an exceptional value for over 25 years. Known for their award-winning designs, quality craftsmanship, smarter floor plans and competitive pricing, Gehan Homes is the 12th largest private homebuilder and the 30th largest homebuilder in the US. Gehan Homes has offices in Dallas, Houston, Austin, San Antonio, Texas and Scottsdale, Arizona. For more information, visit http://www.gehanhomes.com