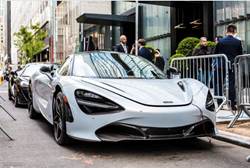 The Highly Anticipated Mclaren 720S was showcased at the Spring Getaway Event.
New York (PRWEB) June 01, 2017
On Monday May 15th, M Level Concierge and partner McLaren Automotive hosted an exclusive cocktail event in New York City. This private event was hosted on the terrace at the fabulous Baccarat Hotel along with partners Core Club, Eclat Jewels and Dom Perignon P2. Monday night's event was also an opportunity to showcase the Baccarat Hotel and the terrace(recently opened for the spring/summer season). The elegance and perfection of the Legendary French Crystal Maker, has now created a luxury lifestyle brand and hotel masterpiece.
The setting of the "Spring Getaway" event was luxurious and elegant filled with UHNWI's (including members from the ultra exclusive Core Club) which made for a wonderful evening of celebration, networking as well as catching up with colleagues. Showcased outside the Baccarat were 3 McLaren automobiles including the highly anticipated 720S model. Distinguished guests as well as those lucky enough to walk by the hotel definitely received a treat being able to see these luxury autos in person. Upon entering the event guests were greeted with a glass of Dom Perignon P2 as well as a special M Level signature cocktail.
Hermann Elgar (Managing Director/COO) and Sanda Josipovic (Dir. Of Sales & Conference) of the Baccarat were both in attendance. John Ramos from M Level Concierge welcomed everyone and also spoke with a few comments about the company and it's partners for the evening.
What was truly unique about this event was that certain quests were given a special key and were then escorted to the Baccarat Suite. The key opened the elegant suite and once inside the room they were welcomed with champagne and canapés as well as being able to experience and purchase the glamorous jewelry showcased by Eclat Jewels. The suite was filled with dazzling combinations of diamonds, sapphires, moonstones, and jade jewelry. Mclaren(Prestige/Bergen County NJ) representatives were also present to meet with new clients in regards to purchasing the new 720S model as well as the other unique and exhilarating road cars produced by this iconic brand.
All guests that attended "The Spring Getaway" truly enjoyed the lovely affair. As the evening drew to a close, guests left with a special gift from M Level Concierge.
Baccarat Hotel & Residences in New York features 114 superbly appointed guest rooms and suites and glamorous second-story lobby salons and bar. The Bar at Baccarat, just off the opulent Grand Salon, is an epic space featuring barrel-vaulted ceilings, a 60- foot bar and an outdoor terrace overlooking the MoMA. The hotel also features a 55- foot indoor pool, an elite fitness training facility and the first Spa de La Mer in the United States. A truly remarkable luxury property.
About : As an exclusive lifestyle and luxury concierge company, M Level Concierge is dedicated to offering specialized experience packages and exclusive perks to the world's most prestigious events, creating unique and memorable experiences for its VIP clients. M Level offers ultra high net worth clients special privileges in every part of the luxury lifestyle industry. Essentially we give client's extraordinary accessibility to special experiences and luxury services around the world.
For more information visit: http://www.mlevelconcierge.com