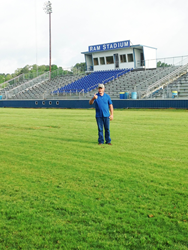 Saving a Small Town Football Field is The Right Thing To Do
Houston, Texas (PRWEB) June 02, 2017
The most important grass area in Joaquin, Texas is their high school football field, and it has been suffering for many years from very bad irrigation water and poor soil.
Joaquin is a small town in East Texas with only 823 residents and the high school has only 240 students; however their football field is their Holy Grail. The grass on the field has suffered for years with poor soil irrigated with bad water. The Irrigation water well has high levels of sodium and bicarbonates, which poison the plants and soil.
Mark Bonner, the sports field manager, contacted Michael Chaplinsky the president of Turf Feeding Systems in Houston, Texas for help, and Michael Chaplinsky jumped into action driving to Joaquin to meet with Bonner to see the field.
Michael Chaplinsky states, "I have seen this situation many times. Poor irrigation water quality kills more grass than disease or insects. Sodium in water is poison and builds in the soil killing the grass the more it is irrigated".
Chaplinsky continues, "We installed our fertigation system on the irrigation that injects our special Sodium Blocker and organic nutrients to restore the soil health. Fertigation treats each drop of irrigation water with nutrients and organics for the plant and soil health. We started the soil engine, which makes the plant healthy".
Mark Bonner states, "The recovery was fast and each week the grass gets thicker, denser and very green. The field is now the best it has been and the grass dense and safer for the players. We are saving a lot of water and fertilizer costs with this new field management program. Michael is an expert with sodium and poor irrigation water quality. He is a great partner for our sports fields".
Chaplinsky concludes, I enjoy helping the struggling small school with a big heart and poor sports fields. That is my mission and my passion, besides it is the right thing to do".
Bio:
Michael Chaplinsky is the president and founder of Turf Feeding Systems, a leading company in fertigation for golf, sports, landscape and agriculture worldwide for over 30 years. He is an expert in soil health, sustainable landscapes and water efficiency.