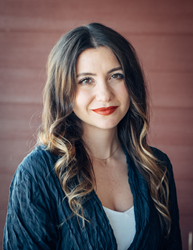 Millennials are looking to go out and experience the world they see all over Instagram and Snapchat
New York, NY (PRWEB) June 01, 2017
Success oftentimes arrives when you least expect it. Just ask Nadine Sykora, travel vlogger and YouTube celebrity whose namesake website, HeyNadine.com, has become an internet sensation. What began as a fun way to share her post-college travel experiences before getting a "real job," HeyNadine.com is now one of the most watched travel vlogs on YouTube. ExpertFlyer.com recently went One-on-One with Nadine to get her thoughts about the travel industry and how her viewers, consisting mostly of millennials, are influencing ways the travel industry is communicating and marketing to this new breed of traveler.
Numbering more than 75 million, the U.S. Census Bureau estimates that millennials have now surpassed baby boomers as the nation's largest living generation, a potential boon to the travel industry if it can adjust to the changing needs of a new generation of travelers. "Millennials are looking to go out and experience the world they see all over Instagram and Snapchat," Nadine Sykora explains. "Many are traveling the world solo for a lot of reasons and are looking for group tours where they can meet others their own age that are also traveling alone. The industry has started leaning in to this trend with a growing number of tour companies offering age-specific group tours for millennial solo travelers."
Sykora believes that millennials are not particularly interested in the large, mega resort, all-inclusive opportunities. "They want that unique experience that's off the beaten path, which means sharing economy options like Airbnb, HomeAway, house sharing, and couch surfing will continue to grow in popularity. We want something cool we can brag about to our friends back home and earn that all important social clout."
Chris Lopinto, president and co-founder of Expertflyer.com concurs. "Millennials are the engine that drives social media and technology and they want immediate access to reviews, videos, photos, and other information before making a decision about their next destination. The travel industry needs to utilize these marketing tools in ways they never have before in order to attract young travelers."
As is the case with any young generation, energy and a desire to explore is plentiful, but discretionary spending is not. Sykora says that millennials need to take a different tact when deciding where to travel next and this new approach can save them hundreds, if not thousands, without placing a damper on their adventures.
"Typical travelers start their planning by identifying a destination and then trying to find cheap flights," says Sykora. "I recommend somewhat of a reverse tactic. Flying cheap is all about flexibility. Start your planning by searching Skyscanner or Google Flights for the dates you wish to travel, but leave the destination open to 'everywhere'. This will open up a whole new world of affordable possibilities and some of the great deal destinations you find may even be on your bucket list."
To watch the full interview with Nadine Sykora, visit ExpertFlyer's blog.
About HeyNadine.com
Nadine Sykora is one of the top travel influencers and travel videographers on Youtube where she has made over 800+ videos gaining over 40 million+ views. Over the last 7 years she has traveled to over 50 countries including all around her home country of Canada. She has worked on dozens of video campaigns for brands, tourism boards and companies around the world. She has spoke on expert travel & business panels at the Canadian Media Producers Association, Playlist Live, VidCon and Buffer Festival, and was a keynote speaker at the 2016 Women in Travel Summit. She has appeared in Forbes, the Observer, Mashable, USA Today, CNN, BBC, Lonely Planet, BuzzFeed, Matador Network, Yahoo Travel and The Huffington Post. In December 2014 she was invited as one of the Top 130 of the most influential travel bloggers and digital media outlets to the White House to attend the White House Travel Blogger Summit on Study Abroad and Global Citizenship. Nadine's passion for travel is contagious and she loves to share her experiences and travel expertise via social media, photography, and through her videos.
About ExpertFlyer.com
Each month, ExpertFlyer's One-on-One blog goes face-to-face with the travel industry's leading decision makers to discuss and address topics relevant to many of today's business and frequent travelers.
ExpertFlyer.com was conceived and created by an eclectic team consisting of a veteran elite tier frequent flyer, an airline captain and corporate travel manager, and information technology professionals to deliver a 24/7 real time powerful air travel information service. The company provides its subscribers and corporate travel managers alike with a complete, concise and efficient way to access the ever-changing details of worldwide air travel information. For more information, please visit expertflyer.com.
Stuck in the middle seat again? Download the free Seat Alerts app from ExpertFlyer and get the window or aisle seat without hassle or frustration.