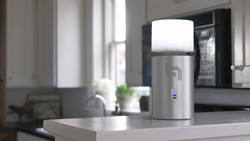 (PRWEB) June 01, 2017
Levof Technologies has launched a Kickstarter campaign to bring their zero-gravity Air Lamp to the home décor market.
 
The Air Lamp is the first portable levitating lamp to feature auto-levitating lift off technology. With the press of a button, it gracefully floats above the sleek charging base while emitting a flattering glow.
 
The lamp is wireless, holds enough power to last up to 12 hours, and is an eye-catching way to elevate one's home, office, and party décor into the 21st century.
 
Air Lamp Benefits:

Modern Design – Sleek and sophisticated, it blends with every décor style.
Wire-Free – Once charged, it can be displayed on any surface from tables to bookcase nooks.
Energy Efficient – It uses low energy LED lights and takes only 3 watts of power to charge.
Functions as a Portable Charger – It comes with two USB ports for charging other devices.
Smart – Its built-in sensor alerts users when the charge is running low.
Available in 3 colors – Silver, Rose Gold, and Black
From setting the mood at intimate gatherings to putting the finishing touch on a bedside table, the Air Lamp is both stylish and functional. It can even be used to charge smart phones and devices when power outlets aren't convenient.
 
The Kickstarter campaign launched Wednesday, May 31st. To back this campaign, visit: https://www.kickstarter.com/projects/levof/air-lamp-the-levitating-portable-lamp
 
Early backers can expect to save up to $130 off retail price for a single lamp, and if Levof Technologies reaches their stretch goal of 500K, they'll release a smart phone app for controlling the Air Lamp remotely.
 
About
Levof Technologies was launched to bring creatively designed decor to the levitating products marketplace. Their flagship product, the Air Lamp, is a modern work of art that brings sophistication and functionality to any space. Its team members come from Cogidea Co. Ltd, and have 10 years of expertise in the levitation field.
For more information, visit: https://www.kickstarter.com/projects/levof/air-lamp-the-levitating-portable-lamp or contact Brooke Daily at brooke(at)veteranpr(dot)com.