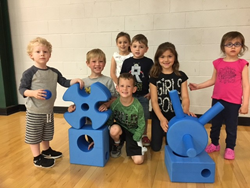 Not only are we excited to incorporate these Big Blocks into existing programs but are eager to create new programs based solely on the benefits of creative free play, thanks to this honor
(PRWEB) June 01, 2017
Imagination Playground, LLC – creators of the breakthrough Big Blue Blocks that encourage child-directed free play, announces the tenth winner of their most popular program, Submit To Win. With five remaining Big Block Sets to be awarded, don't miss the excitement of this program and a chance to win a playground for your school or family center!
Pine Community Center has been announced as the tenth winner in the Submit To Win program, joining the following previous winners:

Anna ISD Early Childhood Center
AHA! A Hands-on Adventure Children's Museum
Harvest Elementary School
Edna C. Stevens Elementary School
Air Zoo
Genesee Intermediate School District
Marshall Area YMCA
Middletown Recreational Center
Rita Miller Elementary School
Pine Community Center Program Coordinator, Meagan Quail, conveyed their thanks by saying, "We are ecstatic to have our very own Big Block Set from Imagination Playground! The Pine Community Center offers a variety of youth programs such as Tot Time, Lil' Explorers, Pre-School Playtime, Kid's Open Gym Nights, Story Time, and Summer Recreation where participants will benefit from building, creating, and letting their imaginations soar. Not only are we excited to incorporate these Big Blocks into existing programs but are eager to create new programs based solely on the benefits of creative free play, thanks to this honor. We look forward to sharing this experience with our Pine Community Center families and unleashing our creativity. Thanks again for this great opportunity!"
Dave Krishock, President of Imagination Playground was thrilled that a community center offering so much youth programming had won. He says, "It's wonderful when our blocks can enhance current programs and recreational activities at community centers. It's even more satisfying when our blocks inspire new ways to use and enhance children's experiences at the center. Pine Community is a perfect example of a center doing both – supplementing current programming as well as adding new activities where the blocks can be used."
With the Pine Community Center victory, there are five more weekly chances to win an Imagination Playground Big Block Set. Don't forget, the Big Block Sets are not the only prizes – Big Block Play Dates and Mini Pop Out Playgrounds for your entire organization make up the top tier prizes. Everyone who enters will receive their very own pop-out Mini Playground! There is no limit on the number of times a school or family center may enter. There is plenty of time to join the thousands of entrants to win a Big Block Set or other prizes. Be sure to get your staff and community involved to further increase your chances of winning!
Anyone interested in learning more about Imagination Playground – our Submit To Win Promotion - or any of their creative products or programs are encouraged to call 1-678-604-7466 or email ContactUs(at)ImaginationPlayground(dot)org.
About Imagination Playground, LLC
Imagination Playground is a breakthrough play space concept developed to encourage child-directed, creative free play. The kind of play that experts say is critical to children's intellectual. Social, physical, and emotional development. Invented by architect and designer David Rockwell and the Rockwell group, Imagination Playground enables children to play, dream, build and explore endless possibilities. Imagination Playground finds its home in daycare centers, kindergartens, elementary schools, children's museums – and science, nature, discovery centers, camps, community centers, children's hospitals, hotels and resorts, public parks and more – in North America and over 70 countries around the world.
For more information, visit http://www.imaginationplayground.com