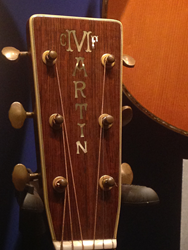 People gravitate toward Martin instruments because of the tone. So the question is, Where does that tone come from? And the easy answer is, 184 years of tradition and craftsmanship, said Brenden Hackett, sales event manager at C.F. Martin & Co.
Oakland, NJ (PRWEB) June 06, 2017
In celebration of its long standing relationship with legendary brand, Martin Guitars, American Musical Supply has released this new behind-the-scenes article, by journalist Kent Priestley. After months of interviews, research, fact checking, and brand approvals, this new article highlighting Martin's early history, achievements, and cultural significance was published on the official AMS Martin brand page.
Late in the summer of 1833, a young cabinet maker from Germany arrived along the New York waterfront, on the run from restrictive trade laws in his home country. The immigrant—slight, bespectacled, thin of hair—brought with him little besides a pair of capable hands and a headful of ideas. Nevertheless, his name would go on to adorn some of the greatest acoustic instruments ever made.
Through the decades, the Martin sound has attracted many of the most famous hands ever to caress a fretboard, including Woody Guthrie, Gene Autry, Carter Stanley, Earl Scruggs, Elvis Presley, Johnny Cash, Bob Dylan, Joan Baez, John Lennon, Jerry Garcia, Neil Young, David Crosby, Jimmy Page, Eric Clapton, James Taylor, Tony Rice, Rory Block, Tommy Emmanuel and Trey Anastasio.
Today, the Martin line runs from Martin Travel Guitars, such as the budget-minded Backpacker guitar at $229, all the way to the spare-no-expense $149,000 D-200, a special-edition model created to celebrate the rollout of the company's two-millionth production guitar in 2016. Between them lies a bewildering range of sizes, shapes and trim options, all of which bear the accumulation of years of knowledge, technique and care.
"One of the great things about a company that's been around for so long is that you're getting every bit of quality in a $1,000 instrument as you would in a $10,000 instrument," says Hackett. "The same hands are on them. The same processes are used."
The rugged Martin Performing Artist Series features models with generously proportioned cutaway bodies and onboard electronics, designed to serve the needs of gigging musicians. Guitars from the Martin 15 Series are crafted from solid mahogany for a rich appearance and warm tone. The Martin Retro Series uses the Fishman Aura® tonal modeling system to capture the sound of well-aged Martin guitars. Connoisseurs are drawn to the Martin Authentic Series: painstaking reproductions of "Golden Era" Martins from the 1920s and 1930s, right down to the vintage hardware. Purists, on the other hand, favor the Martin Standard Series, a roundup of the company's iconic models, including the D-18, D-28 and 000-18.
Then there are the Martin Custom Signature Editions, instruments inspired by, and often built to, artist preferences. A recent model is the mahogany 00-DB assembled with the blessing of Wilco frontman Jeff Tweedy. The Eric Clapton 000-28EC Acoustic Guitar is now a perennial favorite, having sold thousands since its introduction more than 20 years ago.
Not content to rest on its laurels, Martin continues to experiment with new materials and processes—from metal bindings and sustainably sourced woods to its Vintage Tone System, where a guitar's top and braces are "torrefied" (toasted, essentially) at temperatures of up to 500 degrees F, darkening the wood, driving moisture from it, and coaxing open its pores to approximate the effects of years of devoted playing. If a musician can't find exactly what they're looking for from the company's stock models, the Martin Custom Shop is happy to indulge them. "We're not good at saying "no."" Hackett says with a laugh.
In his nearly 20 years at C.F. Martin & Co., Hackett has worked in roles as far-ranging as quality assurance, research and development, and sales. For him, the central appeal of the Martin brand boils down to history. "I enjoy the prestige of the company," he says. "I enjoy the chance to be a part of the legacy." Currently, Christian ("Chris") Frederick Martin IV, the sixth generation of guitar-building Martins, guides the company as CEO. "We're the 31st-oldest family-owned company in the U.S., and we remain very much a family company," says Hackett. "When I started here, it felt like I was walking into somebody else's home. I think it's unique in that way."
The little factory that Christian Martin Sr. founded in Nazareth, Pennsylvania in 1839 has grown into a 200,000-square foot facility that turns out an average of 200 guitars a day. Each year, thousands of musical pilgrims are drawn here to smell the wood shavings and marvel at sight of expert hands piecing together what amount to modern classics. Summer, especially, brings a tide of seasoned musicians to pay tribute at this near-sacred destination for music lovers of all stripes.
"There are days when you roll in to work and a few tour buses are idling in the parking lot," Hackett says. "You're just waiting for a John Mayer or one of those guys to pop in. They're here to humble themselves. It doesn't matter how big a celebrity you are, when you come here, the equation changes. For a few hours, at least, the people working in the Martin factory are the rock stars."
This is an abridged version. To read the complete story, visit the official Martin brand page at AMS.
Copyrights: use of this story, in part or in full, is granted provided original source page is referenced: https://www.americanmusical.com/Martin