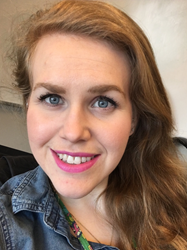 Yorba Linda, Ca (PRWEB) June 02, 2017
LabRoots, the leading provider of educational and interactive virtual events for tech innovators, engineers, and scientists from around the world, is excited to announce Sarah Robbins, a third-year graduate student at Johns Hopkins School of Medicine, as the winner of the first-ever LabRoots STEM scholarship, awarding her $3,000 to support her in her academic pursuits.
Robbins, who is working on her doctorate in human genetics, joined the lab of David Valle to find the cause of rare genetic diseases and is currently working to understand the etiology of a new bone disorder. Robbins was selected for her work and passion to investigate novel methods of synthesizing regenerative materials which exhibit dynamic behavior to better simulate the in vivo microenvironment.
Along with her work in the lab, she writes for OMIM, a catalog of human genetic diseases and the genes that cause them, as well as the Biomedical Odyssey blog, which tells the story of graduate and medical students at Johns Hopkins. After finishing her thesis research, she hopes to work to bring scientific discoveries to the public as a Science Writer or Science Policy advocate.
With more than 1,750 noteworthy applicants, this merit-based scholarship from LabRoots was opened world-wide to all high school seniors, college and graduate students 17 years or older. Applicants were required to be young scientists seeking a degree in any of the science, technology, engineering and mathematics (STEM) fields. The scholarship will aid Robbins in future funding of research projects, travel, training, and other cost associated with her academic pursuits.
LabRoots has always encouraged digital innovation to further scientific collaboration and learning, which has built the platform to become a primary source for current scientific news, webinars, virtual conferences and more.
In its inaugural year, LabRoots scholarship program will continue to foster interest and innovation with the next generation of scholars. With the close of its first scholarship, LabRoots is also opening up the application period for their Summer Textbook Scholarship, awarding a worthy student $1,000. Interested students can apply here.
ABOUT LABROOTS
LabRoots is the leading scientific social networking website, which provides daily scientific trending news and science-themed apparel, as well as produces educational virtual events and webinars, on the latest discoveries and advancements in science. Contributing to the advancement of science through content sharing capabilities, LabRoots is a powerful advocate in amplifying global networks and communities. Founded in 2008, LabRoots emphasizes digital innovation in scientific collaboration and learning, and is a primary source for current scientific news, webinars, virtual conferences, and more. LabRoots has grown into the world's largest series of virtual events within the Life Sciences and Clinical Diagnostics community.