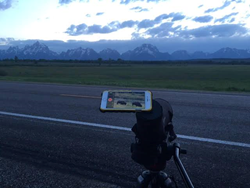 The product is built in the USA.
St. George, Utah (PRWEB) June 05, 2017
Utah-based hunters-turned-inventors and entrepreneurs, Cheston Davis and Tracy Davis, founders of Phone Skope, have created a product that is revolutionizing the digiscoping industry, bringing it from the hunting and birding world into the mainstream.
About six years ago the father and son duo, both natives of Beaver, were out hunting deer in Southern Utah when they saw a mountain lion tracking a deer. The encounter prompted them to pull out a cell phone and try to snap some photos. They wanted to document the sighting.
The chance animal encounter acted as the catalyst for the invention of Phone Skope's line of products – products that make digiscoping possible for the average cell phone user and beyond.
What is digiscoping?
Digiscoping is the practice of taking digital photos through a spotting scope typically used for birding or hunting. Users place the lens of the camera to the eyepiece of the scope to take advantage of its magnifying capabilities. For the Davises, taking a clear photo of the mountain lion through the scope proved difficult as they were unable to hold the camera steady.
How Phone Skope products work
Phone Skope products are two-part kits; part one is a phone case, and part two is an adapter that attaches to both the phone case and an optic device such as a spotting scope. Together the elements allow a cell phone camera to utilize the magnifying capability of the scope all while being securely attached. This eliminates shaking and provides clearer, closer images.
Phone Skope kits are available for almost any optic device and smart phone combination, Cheston Davis said, including binoculars, microscopes, spotting scopes and telescopes.
The product was originally designed for hunting but its uses have become quite varied. It can be used for wildlife photography, astronomy, microbiology or anything else one chooses to photograph.
With technology that allows live broadcasting, a person can even share what they are seeing with their friends on social media in real time, Cheston Davis said.
The Phone Skope kit runs between $70 and $80 and includes the case and the adapter.
About Phone Skope
Phone Skope is a privately-held company that makes custom-molded, precisely engineered smartphone digiscoping adapters.
It is a relatively young company that has grown quite rapidly, Cheston Davis said. The company remains committed to quality and to the principals that got the company this far.
"The product is built in the USA," he said.
Phone Skope is not only built in the United States, it was imagined in small town Southern Utah and is manufactured in St. George.
"It just goes to show you that if you put your heart and mind to it, you can accomplish anything," Cheston Davis said.
Learn more about Phone Skope and its products on their website.