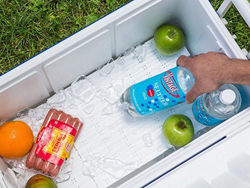 The product solves a lot of those problems dealing with your food cooler
St. George, Utah (PRWEB) June 05, 2017
Utah-based inventor and entrepreneur Bryan Kendrick, founder and CEO of product design company, Ice-Olate™, has created a simple solution to the pesky problem created by melted ice in a camping cooler.
The impetus for the design came from Kendrick's own camping experiences and the continual hassle of having to throw away spoiled food that had grown soggy and/or contaminated in the melted ice water.
Kendrick started drawing up plans for the product almost 10 years ago, he said, but life took him in a different direction. Then, a few years ago he revisited the idea using 3-D printing and recently launched The Cooler Tray™.
The patented design is a simple, perforated tray that users put into the bottom of their cooler before filling it with food and ice. Small legs on the bottom of the tray allow space below it for the melted ice water to collect and remain separate from the food.
"The product solves a lot of those problems dealing with your food cooler," Kendrick said. "Your food stays clean, it stays dry … and you save a lot of stress from not having to deal with cleaning up a mess and throwing lots of food away."
The tray also makes the ice last longer. Results have varied, Kendrick said, but he has seen results that suggest ice will last up to 48 hours longer. This is because the ice is no longer sitting in melted water which causes it to melt faster.
The Cooler Tray™ was designed to be universal, Kendrick said, meaning it will fit most brand coolers from Igloo and Coleman to Yeti and Grizzly.
The tray adjusts both lengthwise and widthwise and can be used in cooler sizes from 40 quarts up to about 110 quarts.
Additionally, The Cooler Tray™ is compliant with standards set forth by the Food and Drug Administration. Its design provides enough support for up to 80 pounds of food and beverages.
The tray's height allows for about 15-20 pounds of ice to melt and collect below the tray without the user having to empty the cooler.
The Cooler Tray™ can be purchased from Ice-Olate's website and Amazon online.
About Ice-Olate™
Ice-Olate's™ goal is to design innovative products that solve real-life problems. Their website currently lists two available products — The Cooler Tray™ and The Cooler Belt.
Ice-Olate™ is partnered with Utah-based company Phone Skope, a company that has revolutionized digiscoping adapters for mobile phones.
Both Ice-Olate™ and Phone Skope products are manufactured in the United States.