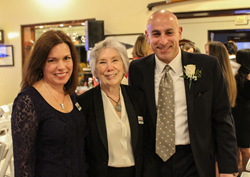 As a child with an undiagnosed learning disability, a lot more was going on behind my eyes than I was getting credit for
Westport, CT (PRWEB) June 12, 2017
On Friday, April 21, Smart Kids with Learning Disabilities (SKLD) hosted its 17th anniversary benefit gala at the Indian Harbor Yacht Club in Greenwich, CT. The evening celebrated the winners of the annual Fred J. Epstein Youth Achievement Awards, as well as honoring Dr. Christopher Bogart, founder and executive director of the Southfield Center for Development, with the organization's Community Service Award.
Attorney and ADHD-activist Robert Tudisco, a partner at Barger & Gaines, served as master of ceremonies. He described SKLD Executive Director Jane Ross as his "hero" for founding an organization focused on the "enormous intelligence and talents" of children with learning disabilities (LD). "As a child with an undiagnosed learning disability," Tudisco said, "there was a lot more going on behind my eyes than I was getting credit for."
As part of the evening's awards ceremony, SKLD board member Danielle DeGrazia recounted her experience as a parent of a child with learning disabilities. When her son Justin was 13, DeGrazia was told by his school that he was "not college material" and would not be put in college-track courses in high school. DeGrazia and her husband were "devastated." Then she attended the first program sponsored by SKLD, a talk by noted pediatric neurosurgeon Dr. Fred J. Epstein. DeGrazia called it "divine intervention" and credited SKLD with giving her the "tools, courage and community of parents to empower" her to fight for her son. She said Justin graduated college with a degree in diagnostic genetics and a minor in molecular biology and is now the manager of assay development at Celmatix, a biotech firm.
Dr. Christopher Bogart was honored with the 2017 Community Service Award. Christopher M. Bogart, PhD, is a licensed clinical psychologist who has worked in both the private and public sectors for the past twenty years. In 2010, Dr. Bogart founded The Southfield Center for Development in Darien, CT, a family-centered, interdisciplinary practice providing an integrated approach to learning, emotional, and behavior issues. The Southfield Center has helped countless children, adolescents, and families, with a wide spectrum of needs. As shown by the standing ovation Dr. Bogart received as he accepted his award, he is beloved by staff and clients alike.
In his acceptance speech, Dr. Bogart called his colleagues at the Southfield Center his "family" and expressed gratitude for the support he received as a child with ADHD from a special teacher. Dr. Bogart said, "For every smart kid with a learning disability that has succeeded, there has been at least one teacher that has truly believed in that child."
Seven high school students, six of whom attended the event, were presented with the Fred J. Epstein Youth Achievement Awards. The awards recognize young people with learning disabilities and ADHD for remarkable accomplishments. The awards are named for the late Dr. Epstein who credited his learning disabilities for fueling his professional success and became to inspiration for children with LD and their families. The honorees, who came from five states, demonstrate what young people with learning disabilities can achieve through dedication, talent, initiative and the support of their families and teachers.
Following a spirited cocktail hour and silent auction, over 165 guests enjoyed a live auction. Simon Teakle, of Simon Teakle Fine Jewelry in Greenwich, rallied those in attendance to bid on items including tickets to the Broadway hit Dear Evan Hansen, a Walt Disney World vacation, and a behind-the-scenes visit to the Showtime drama Billions. The event raised more than $70,000, which will be used to continue the non-profit organization's efforts to educate and support parents of children with learning disabilities and ADHD.
The Pinnacle Sponsor for the gala was the Southfield Center for Development in Darien, CT. The Summit Sponsor, Lindamood-Bell Learning Center in Darien, CT, provides research-based instruction in reading, comprehension, and literacy processing. Additional sponsors included GenRe, Affinion Group, Eagle Hill School Greenwich, the Tarrytown, NY-based law firm Barger & Gaines, Fusion Academy of Greenwich and Fairfield, and Winston Prep School in Norwalk, CT.
About Smart Kids with Learning Disabilities, Inc.
Smart Kids with Learning Disabilities, Inc. is a Westport-based nonprofit organization dedicated to empowering the parents of children with learning disabilities (LD) and attention deficit disorders (ADHD) via its educational programs, award-winning website and blog, and free e-newsletter at http://www.SmartKidswithLD.org. The organization also educates the public about these children's gifts and talents. Connecticut Governor Dannel Malloy and Anne Ford are Honorary Board members and Henry Winkler, Golden Globe award-winning actor, director and author, serves as the organization's Honorary Chairman.