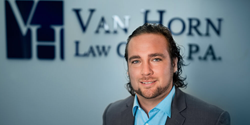 We are incredibly fortunate at Van Horn Law Group to have earned the regard and trust of our fellow legal professionals and our clients.
Fort Lauderdale, FL (PRWEB) June 09, 2017
To be honored by one's peers is among the highest honors that an attorney can receive, and Fort Lauderdale Bankruptcy attorney Chad Van Horn is proud to announce that for the second year in a row, Thompson-Reuters has selected Van Horn as one of their Rising Stars. The award is the result of a unique selection process that starts with nominations and evaluations for the firm's skill set in seventy different practice areas. The nominations are followed up with independent research into an attorney's practice of law, and measured against specific indicators of achievement and peer recognition.
The Process
Not only are attorneys prohibited from nominating themselves and from campaigning after a nomination, but the nomination is only available through four channels – a survey of managing partners, a nomination by a peer, feedback from third parties such as clients and other legal professionals, or via selection by a research team. The criteria for evaluation include verdicts and settlements, experience, pro bono work and community service, among other benchmarks. After a rigorous peer evaluation, only 2.5 percent of the candidates are selected out of the Super Lawyers pool to be named as Rising Stars.
The Idea
The idea for Rising Stars was to give people in need of attorneys a chance to find a really top-notch attorney in their specialty. There are no attorneys listed on Super Lawyers who have paid for reviews, nor have they bought ads, paid for likes from clickfarms, or any other Astroturf tactics. The evaluation of peers and professionals in the law is what counts here, and allows the client to choose an attorney with a proven track record, credibility, and the respect of their peers.
Our Gratitude
"We are incredibly fortunate at Van Horn Law Group to have earned the regard and trust of our fellow legal professionals and our clients. We pride ourselves on our level of service and taking on the tough cases. Advocacy for our clients and putting in the sweat to get them the outcome they need is always in the top of our minds.The hard cases, the complicated cases, the cases that people feel are hopeless are the ones we want, and we want to make a difference. We want people to know what there is a way out of debt and financial problems, and a way up, and that we will fight for them," says Managing Partner Chad Van Horn
"We would like to thank Thompson-Reuters and Super Lawyers for selecting us for this honor, and all of Van Horn Law Group for their hard work. We thank our clients for their trust in us. We would also like to thank the communities in which we serve for their support. We are determined to keep that star rising, and to provide the best counsel to our clients."
About Van Horn Law Group
Van Horn Law Group P.A. is a Fort Lauderdale-based law firm with practice areas in personal bankruptcy, corporate bankruptcy, student loan consolidation and litigation, estate planning/asset protection, LGBT estate planning/asset protection, foreclosure defense, corporate representation, debt consolidation, civil litigation, debt relief, and consumer law. Managing Partner Chad T. Van Horn is the founding partner of the firm and a South Florida business leader. Through a combination of dedicated philanthropy, spirited entrepreneurship and legal expertise, he applies his resources and networking to helping people. A Florida State Bar-certified attorney, Van Horn's many honors include the prestigious AV Preeminent ranking, the highest rating awarded to attorneys by Martindale-Hubbell. For additional information, Van Horn Law Group can be reached at (954) 765-3166, and the firm is located on the Internet at http://www.vanhornlawgroup.com.