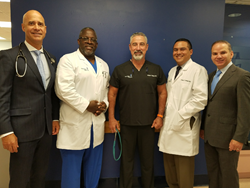 Miami, Florida (PRWEB) June 01, 2017
Gastro Health, LLC has acquired the practice of Miami's Pediatric Gastroenterology Associates. With this acquisition, Gastro Health now becomes the largest pediatric gastroenterology provider in South Florida with a total of nine physicians – five in Miami and four in Palm Beach. The office will become Gastro Health's 26th South Florida location and the network's second pediatric-focused practice.
Pediatric Gastroenterology Associates is comprised of five full-time physicians – Dr. Richard Arboleda, Dr. Roberto Enrique Gomara, Dr. Jesse Reeves-Garcia, Dr. Erick Hernandez, and Dr. William I. Muinos. Together they provide expert pediatric care for conditions such as Crohn's disease, gastroesophageal reflux, acute and chronic liver disorders, Celiac disease, ulcerative colitis, inflammatory bowel disease, lactose intolerance and more.
"By expanding our pediatric gastroenterology services, we are answering the community need for more specialized services for children," said Alejandro Fernandez, CEO of Gastro Health. "We are very proud to be welcoming the experienced and skilled group from Pediatric Gastroenterology Associates to Gastro Health's pediatric division."
By joining Gastro Health's network, the group will be able to offer their patients the safe and affordable gastrointestinal care and resources they need. All of Gastro Health's care centers are equipped with the latest state-of-the-art technology to ensure the best outcomes possible for each individual patient.
"We take great pride in being able to offer our patients outstanding, convenient care and are pleased to be able to do so under the Gastro Health name," said Dr. William Muinos.
"By becoming part of Gastro Health, one of the most recognized gastroenterology groups in the country with an outstanding reputation, our patients will now benefit from the additional resources we will be able to provide," said Dr. Erick Hernandez.
Patients can continue to schedule appointments at one of two convenient locations: The Nicklaus Children's Hospital main campus located at 3200 S.W. 60th Court, Suite 204 (305-661-0037) and in Kendall, adjacent to Baptist Hospital, located at 8955 S.W. 87th Court, Suite 206. (786-888-2480).
For more information about Gastro Health, visit http://www.gastrohealth.com.
# # #
Press Contact:
Joanna Palmer
JPalmer(at)GastroHealth.com
(786) 456-8677
About Gastro Health
Gastro Health, founded in 2006, is South Florida's largest, private gastroenterology network comprised of over 60 physicians in 26 locations. Gastro Health provides patients access to some of the nation's premier gastroenterologists, pediatric gastroenterologists, colorectal surgeons, and allied health professionals. In addition to delivering gastrointestinal care, providers offer a wide range of additional services including: anesthesia, infusion, imaging, pathology, specialty pharmacy and in-office RX dispensing. Gastro Health takes pride in providing outstanding medical care and an exceptional healthcare experience for patients.