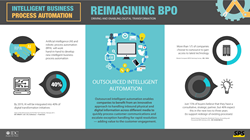 It is obvious that our role as a BPO provider has changed in the direction of a strategic partner, helping customers to improve and streamline processes and providing innovative services. - Joerg Vollmer, CEO Swiss Post Solutions
New York, New York (PRWEB) June 01, 2017
Swiss Post Solutions (SPS), a leading outsourcing provider for business process solutions and innovative services in document management, today shares insights about current trends in Business Process Outsourcing (BPO).
The main driver for changes in BPO to increase efficiency is technology, such as Artificial Intelligence (AI) and Robotic Process Automation (RPA). With reference to an SPS-commissioned IDC Vendor Spotlight, entitled Intelligent Business Process Automation: Enabling Customer-First Digital Strategy, there are challenges and opportunities for businesses to transform customer experience and engagement through improving their management of unstructured and structured data, as well as harnessing the developing technology.
Many businesses face the problem of managing increasing amounts of data. IDC predicts that by 2025 the amount of data created, captured and replicated will have grown to 163 zettabytes (ZB) or 163 trillion gigabytes, which is ten times the 16.1ZB generated in 2016. One key challenge for businesses lies in retrieving data from unstructured and structured documents, to maximize its use and value in executing business process tasks.
New technologies provide the solutions required, but the pace of technology change is rapid and the need to protect the increasing volume of business intelligence, including customer data is crucial. Handling both physical and digital inbound business intelligence requires a holistic approach to extract the most important information and to integrate it into core business processes and systems. BPO is evolving to address heightened challenges as it moves from optimizing existing processes, to re-imagining them through leveraging the latest technologies powered by the digital transformation. According to IDC, although merely 15% of BPO buyers have a consultative, strategic BPO provider relationship to support fundamental re-design of existing processes as a core component, 46% expect this in the next two to three years.
"It is obvious that our role as a BPO provider has changed in the direction of a strategic partner, helping customers to improve and streamline processes and providing innovative services," says Joerg Vollmer, CEO Swiss Post Solutions.
"Aiming at pushing forward the digital transformation, we have further improved our customer offering by leveraging Artificial Intelligence and Robotics."
In designing a new business model, executive management, digital transformation officers (DTOs) and line-of business managers all need to envision a new reality for which existing processes may be a hurdle. Businesses need to start with desired business outcomes and then assess the ways in which they can be achieved.
"Swiss Post Solutions (SPS) is a good example of a company whose strategy has evolved to respond to the opportunities provided through intelligent business process automation. IDC has seen a significant progression in the two years since IDC interviewed the company about its strategy for leveraging robotics and artificial intelligence to improve its document management BPO service," says Jacqui Hendriks, IDC Research and Consulting Manager.
The IDC Vendor Spotlight can be found by clicking here.