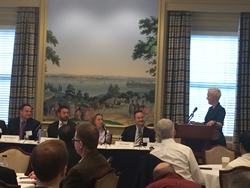 New York, NY (PRWEB) June 06, 2017
The Wall Street Technology Association (WSTA®), a not-for-profit organization that provides financial IT professionals a forum to learn from and connect with each other, will host a panel discussion on "Innovation Acceleration" on June 14, 2017 in New York City. Nikhil Lele, Principal-Financial Services, Ernst & Young LLP will provide industry perspectives and moderate the discussion. "I am looking forward to moderating this discussion with a panel of industry leaders who will share their experiences on making innovation real, practical, and value-adding in financial services," notes EY's Lele. Panel sponsors include: DefinedLogic, Microsoft, and Red Hat. For more information, visit: http://www.wsta.org/events/event/innovation-acceleration-panel-discussion/
Panel Discussion Overview
The financial services industry is in transition, pivoting from regulatory driven transformation to innovation driven enterprise transformation. At the heart of this pivot is the sustained and accelerating pace of change driven by the myriad of technology advancements and disruptions that are reshaping the industry. Strategic plans of years past targeted with siloed thinking about FinTech, Digital, AI/Machine Learning, Cloud, and Automation as individual topics must now be coordinated in order to unlock the true potential of the disruptive technology agenda. Innovation Acceleration will form the critical core of the new transformation agenda that financial institutions undertake as the pivot from regulatory to growth continues. Firms undertaking Digital Transformation will need to better integrate advanced analytics and new cloud-based, API driven ecosystems. Firms adopting RPA will need to evolve into more AI/Machine Learning based capabilities to drive Intelligent Automation. The Intelligent Automated enterprise will be the new business model and firms that can embrace this new operating model will win while those who do not may not survive.
About the Wall Street Technology Association
Celebrating 50 years, the Wall Street Technology Association (http://www.wsta.org) has provided financial industry technology professionals, vendors, service providers, and consultants forums to learn from and connect with each other. The WSTA facilitates educational seminars and networking events where members meet and exchange ideas and best practices that assist them in effectively capitalizing on technology advances and dealing with financial industry business challenges. Founded in 1967, the WSTA is a not-for-profit association with a long history of evolving to meet the needs of its members.
The WSTA hosts seminars, roundtables, panel discussions, and social events. These events offer many opportunities to stay on top of leading technologies, as well as network and share information with industry colleagues. The WSTA's monthly educational Digital News provides additional content and information about the WSTA and industry-related activities. The website is a dynamic resource for keeping on top of the latest information and offers access to additional resources including webinars, white papers, blogs, videos, and information about other industry events.