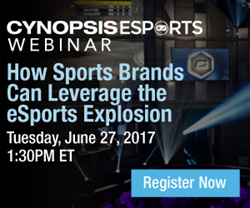 New York, NY (PRWEB) June 02, 2017
Opportunities are plentiful in esports, but making the right moves is key. The newest Cynopsis webinar, How Sports Brands Can Leverage the Esports Explosion, on Tuesday, June 27, will focus on how standard sports brands and companies, leagues and teams have redefined brand activation and strategies to succeed in this new space.
Chris Pursell, Cynopsis Director of Sports and Esports Content, will host the June 27 webinar along with the following speakers: Erin Harvego, VP of Marketing for Big Ten Network; and David Highhill, Director of Consumer Product Strategy & Business Development for the NFL.
During the interactive webinar, attendees will receive insights on:

What brought current players into the esports space
What players have they learned since their investment that can help shape company's strategies
How the sports and esports industries can help each other
How media companies & content producers leverage the gaming craze with complementary programming
The kinds of data potential partners should review
In addition, the session will allow for real time Q&A's to ensure specific questions are answered. Register your team today for the Cynopsis webinar "How Sports Brands Can Leverage the Esports Explosion."
All webinar attendees will receive full access to speaker presentations for 1 year. Webinar tuition is based on location, not number of participants, so each registration site can have multiple participants for one low price. Questions? Contact Trish Pihonak at trish@cynopsis.com.
About Cynopsis Media:
Cynopsis is what the TV industry reads first every day. The Cynopsis family of products includes the media industry's most-read daily, Cynopsis, plus sister dailies Cynopsis Digital and Cynopsis Sports; weekly eSports, the Cynopsis Jobs board and special reports. Serving TV, agency and brand professionals, Cynopsis Media produces conferences, webinars, and awards programs that are second to none. Find out more at cynopsis.com.
###