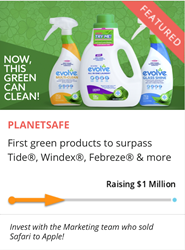 Now, Green not only cleans, it cleans best! Evolve is changing how consumers clean their homes and small businesses.
Fort Lauderdale, FL (PRWEB) June 01, 2017
Planetsafe, Inc. announced today that it has launched a $1 million crowdfunding campaign on CrowdFunder.com to support the launch of Evolve®, the world's first naturally-derived, green cleaning products to meet and surpass the performance of national brands including Tide®, Windex®, Febreze® and more. Evolve also delivers powerful new benefits to consumers not available in traditional cleaning products.
Evolve's 2018 nationwide retail launch in 16,000 stores is supported by:

Successful test marketing in 1,800 Walmart & Kmart stores in all 50 states.
$3 million in revenues from Evolve-based retail products
Purchased by 500,000 consumers, and a
Repurchase rate of 70% by consumers, rivaling national brands.
Watch top industry professionals discuss Evolve's impact on cleaning: https://youtu.be/CGjf1o-ZF40
Evolve's superior cleaning allows its products to be sold to all consumers, not just green buyers, making its market 30X larger than green competitors who sell primarily to dedicated green buyers, representing only 3% of the U.S. home cleaning market.
Although society is increasingly more environmentally aware each year , people have learned that "natural" cleaning means less effective and more expensive, so the cost of "going green" is not worth it for most. Evolve allows consumers to reduce and often eliminate the use of toxic, chemical cleaning compounds and replace those with natural products that work better and cost less — while being absolutely safe.
Visit CrowdFunder.com for details.