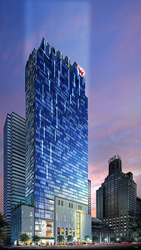 This move is the culmination of years of deliberate work to bring NELSON from its roots as a strictly interior design firm to a full-service design operation, said John 'Ozzie' Nelson, Chairman & CEO of NELSON.
Philadelphia, PA (PRWEB) June 02, 2017
NELSON is moving in on high-rise commercial architecture. In a move that will take them from a nationally recognized interior design firm to a true full-service architecture and design firm, NELSON, Cope Linder Architects, and KA Architecture will merge operations effective June 1, 2017.
While NELSON has frequently provided architecture services for small ground-up retail and healthcare clients, this is what Chairman & CEO John "Ozzie" Nelson Jr describes as the first strategic move into the large scale commercial architecture world.
"High-rise architecture is a much-coveted project type for us," says Nelson. "When we think about the possibilities here – to marry the creative process of designing from both the exterior and interior of the building – we believe we can offer our clients something truly special."
Known as one of the premier, award-winning firms in Philadelphia, Cope Linder Architects brings extensive experience in commercial architecture, hospitality, gaming and entertainment, to the top 10 Design Giant. The move will add a fully staffed architecture team with extensive large scale and high-rise capabilities to NELSON network, bringing the total Philadelphia presence to nearly 125 people, making it NELSON's third-largest studio.
For both Cope Linder and KA, joining operations with NELSON gives them access to a global network of Teammates and resources.
One of the first projects slated to be completed under the combined company is the W and Element Hotel in Center City Philadelphia. The 51 story, 295-room W Philadelphia and 460-room Element Philadelphia hotel will be 773,500SF and a LEED Certified project featuring panoramic views, an outdoor pool bar and terrace and prime retail space. It will open in 2018. CLA has also recently completed the award winning, 31 story 1706 Rittenhouse Square Street.
Located in Cleveland, OH, KA Architecture is a nationally recognized architecture firm that provides value-added design services to a wide range of clients including shopping centers, mixed-use developments, multi-family, hospitality venues and corporate offices. They are ranked among the one of the top five largest architectural firms in Cleveland. The merger not only establishes a third location for NELSON in the Midwest, it positions NELSON as an architecture powerhouse.
Mellody Farm is a new 272,000 sf ground up retail development under construction that presents a "unique and authentic experience" for customers with a mix of modern and old-time features, such as street pavers, turn-of-the-century rooftops, painted signs and other elements to create an urban feel. This is the first major project scheduled to be completed under the combined company. KA Architecture, A NELSON brand serves at the Executive Architect.
"This move is the culmination of years of deliberate work to bring NELSON from its roots as a strictly interior design firm to a full-service design operation," says Nelson. "Not only will we bring a size and scale of architectural design capability to our existing clients, we can bring NELSON's superior relationship-driven service to a new sector of clients. The combination of CLA and KA allow us to launch a newly formed Hospitality Practice as well as significantly bolster our Retail Practice – bringing creative and innovative design approaches to increasingly competitive industries."
For more information about NELSON, visit http://www.NELSONonline.com.