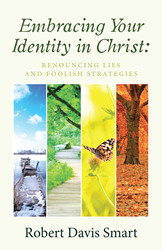 Normal, Ill. (PRWEB) June 05, 2017
Robert Davis Smart's book "Embracing Your Identity in Christ" serves as a practical guide to embrace identity formation in Christ through the acceptance of one's glory, gender, story, and more while renouncing lies, condemning thoughts, and foolish strategies.
The book addresses many of the conflicts felt by Christians, including the daily interpretation of identity and how condemnation has been a primary motivation over grace.
"Out of a central condemning lie, we develop foolish strategies to overcome a lie, which is unnecessary since Christ already took care of this for Christians on the front end," said Smart. "It is my conviction that the Gospel isn't just for non-Christians, but is the milk for new 'baby' Christians and the meat for the mature."
"Embracing Your Identity in Christ" encourages followers to live by the Gospel and not the oppressive rule of condemnation. It is also one out of four books by Smart that represents the four seasons of spiritual formation in the Christian life.
"Embracing Your Identity in Christ: Renouncing Lies and Foolish Strategies"
By Robert Davis Smart
ISBN: 978-1-51277-890-8 (hardcover); 978-1-51277-889-2 (softcover);
978-1-51277-888-5 (eBook)
Available on Amazon, Barnes & Noble, and WestBow Press
About the author
Robert Davis Smart has served in Christian ministry both on college campuses with the Navigators and as senior pastor of Christ Church for the last thirty years. As an author and editor, he published his Ph.D. on Jonathan Edwards, contributed chapters on the Great Awakening, and wrote articles and reviews in theological journals. Smart is married, has five married children, and is a grandfather of eleven grandchildren. He has taught seminary courses on spiritual formation and theology in over twenty-five nations, and speaks often at conferences on marriage and family. To learn more, please visit http://www.robertdavissmart.com.
###
Review Copies & Interview Requests:
LAVIDGE – Phoenix
Bryan Beach
480-998-2600 x 510
bbeach(at)lavidge(dot)com
General Inquiries:
LAVIDGE – Phoenix
Kalin Thomas
480-998-2600 x 524
kthomas(at)lavidge(dot)com