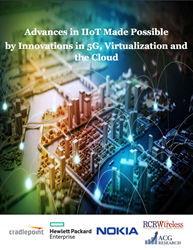 The number of devices connected to the world's networks in the next five years will grow by several orders of magnitude, dominated by the continuous introduction of connected things in a wide range environments.
Austin, Texas (PRWEB) June 05, 2017
ACG Research spoke with experts from Nokia, Cradlepoint, and Hewlett Packard Enterprise for their views on the growing deployment of industrial IoT (IIoT) solutions and how they will create extensive and demanding requirements for service providers to address.
The report, entitled "Advances in IIoT Made Possible by Innovations in 5G, Virtualization and the Cloud" explores the dimensions on which IIoT applications will stretch the infrastructures requirements in deployment of three major classes of application. It also examine ways in which the diversity and scale of the resulting network services can only be cost-effectively addressed by deployment of cloud-enabled edge computing pools and how cloudnative infrastructure and software designs will support packet cores services at two to three times lower cost than conventional approaches for the main application classes of IIoT.
The report also evaluates the ways in which advanced IIoT endpoints will benefit from the improved performance and functionality of enhanced 4G/LTE and 5G network services working in tandem with cloud application delivery systems to construct a continuously available service delivery fabric to support their operation
Watch the complementary webinar featuring:

Paul Parker-Johnson, Principal Analyst, ACG Research
Ken Hosac, VP, Business Development, Cradlepoint
Dave Nowoswiat, Sr, Product Marketing Manager, Nokia
Prodip Sen, CTO, HPE
About ACG Research
ACG Research is an analyst and consulting firm that focuses on the service providers' networking and the telecom industry. We are boutique firm; our smaller size allows our analysts, who have advanced academic degrees and extensive business experience in the service provider and vendor spaces, to focus on all sectors of the telecom industry. This approach enables us to deliver a more customized consulting experience for our clients around the globe. http://www.acgcc.com
About RCR Wireless News
Since 1982, RCR Wireless News has been providing wireless and mobile industry news, insights, and analysis to industry and enterprise professionals, decision makers, policy makers, analysts and investors. Our mission is to connect, globally and locally, mobile technology professionals and companies online, in person, and now on video. Our dedication to editorial excellence coupled with one of the industry's most comprehensive industry databases and digital networks leads readers and advertisers to consistently choose RCR Wireless News over other industry publications. http://www.rcrwireless.com