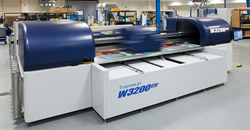 EAST HARTFORD, CONNECTICUT (PRWEB) June 03, 2017
Merritt Graphics, the Big Color Division of Joseph Merritt Company, assured its place as an industry leader in large-format printing when it added the Screen Truepress JetW3200UV HS to its stable of equipment.
From its 27,000 square foot showroom and manufacturing facility in East Hartford, Merritt Graphics/ Big Color Division, produces interior and exterior signage and eye-catching displays for the out-of-home and transit markets, POP, indoor and retail graphics, vehicle graphics, event, exhibit and venue graphics, and environmental graphics and branding.
The Truepress Jet W3200UV HS is a wide format printer utilizing Screen's moving-table flatbed platform to produce outstanding quality on both rigid and roll media. It is being deployed by an increasing number of wide format shops throughout the world as the go-to production tool for meeting quick turnaround and high-volume orders across many different applications.
Merritt's parent, the Joseph Merritt Company, was established in Hartford, Connecticut in 1908 and has been producing digital wide format color graphics since 1990. Merritt Graphics has a rich history of working with Fortune 100 and 500 companies locally, regionally, and nationally. Merritt Graphics a location and proximity to the New York City and Boston marketplaces, works with many nationally known companies to help promote their brand.
The W3200UV HS will certainly take Merritt to the next level in terms of quality, speed, efficiency and broad substrate options. In addition, because the system was acquired with the roll-to-roll hybrid capability, the Screen device serves as the new flagship to the rest of the companies fleet of UV printers. Adding the multi-layer function and the white ink capability that the W3200 brings is critical for POP in store print programs.
The use of social media has caused a revolution in in-store promotions. Businesses adjust their advertising programs in real time based on their social media metrics. What used to be a four to five-week program between design and execution is now accomplished in as little as one week. Speed and outstanding quality are not a problem for the W3200 that also has direct to acrylic substrate capability.The Truepress Jet W3200UV HS is manufactured for high volume so it is geared to go a full 24 hours a day, six days a week as volume dictates for an operation.
About Screen Americas
Screen Americas (http://www.screenamericas.com), a SCREEN Graphic and Precision Solutions group company, provides a wide range of solutions to meet graphic communications needs, with a strong focus on production-class inkjet printing technology.
Celebrating its 50th anniversary in the United States, Screen Americas has created satisfied customers by delivering the latest innovations that help diverse printing operations profitably grow their businesses. Our versatile, reliable product portfolio includes Truepress inkjet printers and presses, PlateRite thermal platesetters and PDF/JDF-based workflow solutions for computer-to-plate and print-on-demand.
Screen digital solutions are known for their ability to streamline printing processes and significantly improve output quality. These exceptional features continue to make them leaders in their respective market segments. Exciting new advances in every product category, along with ongoing product improvements and software upgrades, offer greater value and flexibility.