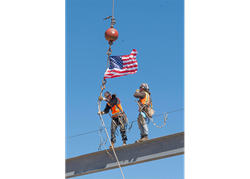 Estes Park, Colo. (PRWEB) June 02, 2017
Estes Park, Colorado is the location of a scenic mountain town bordering Rocky Mountain National Park. The Estes Valley Recreation and Park District, with the goal of serving the park and recreation needs of residents and guests in Estes Park, has embarked on the construction of a 70,000‐sf community recreation center envisioned as a multi‐generational facility with something to offer, no matter what your age.
The new community center attaches on to the existing aquatics center which is undergoing an extensive renovation. The new facility will house the Estes Valley Recreation & Park District administrative offices, and contain a new zero‐entry children's activity pool with water play features and a connecting lazy river. There will be a water slide which exits the building and then loops back to deposit riders inside the natatorium. The existing lap pool and dive well will have the addition of new aquatic climbing walls and a complete natatorium renovation. The multipurpose gymnasium will have basketball and volleyball courts surrounded by an elevated indoor running track. There will be a children's room with an indoor playground for younger patrons. Exercise facilities include a group exercise room, cardio room, strength training weight room, and Indoor JR golf range. There will be classrooms and a meeting room that can be reserved. The Estes library will have a satellite kiosk to allow for the reservation, pick up and drop off of books and media. A large community room with a commercial kitchen will be available for wedding receptions and other functions. There will be vending machines, an ATM and a frozen yogurt vending robot. The facility will have new locker and shower facilities including a new team room for the high school swim team next to the lap pool and family changing rooms. The local ham radio club will have a repeater station set up to serve the town and there will be Wi‐Fi throughout the building. Meeting and gathering spaces will be available for all ages from seniors to toddlers.
Teaming with the Estes Valley Recreation and Park District, Architect Ohlson Lavoie Collaborative (OLC) and Owner's Representative, RLH Engineering, AP will ensure their vision and goals for this facility are achieved and the town receives a community center that they can be proud of.
The steel topping out and community beam signing took place over two days with many local attendees wanting to be part of this milestone. Attendees included AP project team, Jason Heustis, Tom Purcell, Quintin Quimby, Josh Cohen, Wade Zimmerman, Les Fernando and Char Oppermann.
The Estes Valley Community Center is on schedule to open in January 2018 to the public.
Photo courtesy of Dawn Wilson, Marketing and Communications Manager, Estes Valley Recreation and Park District. Rendering courtesy of Ohlson Lavoie Collaborative
About AP
Adolfson & Peterson Construction (AP) is a U.S.‐based, privately held builder that is consistently ranked among the top 50 construction managers and general contractors in the nation. Headquartered in Minneapolis, Minnesota, the company delivers innovative and collaborative building solutions for clients across the country from its regional offices in Charlotte, Dallas, Denver, Minneapolis and Phoenix. Founded in 1946, AP serves clients in the education, healthcare, commercial, municipal, multifamily, hospitality and senior living market sectors. For more information, visit http://www.a-p.com/ or follow us on Facebook, LinkedIn and Twitter.