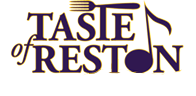 Reston, VA (PRWEB) June 02, 2017
Taste of Reston, recently voted 2017 Best Food Festival of Northern Virginia by Virginia Living, is expected to draw record crowds to Reston Town Center in less than a month. Produced by the Greater Reston Chamber of Commerce, this event features the region's best cuisine, family activities, live entertainment and a Wine 'n Dine section with cooking demonstrations from local chefs and a Family Fun Zone! and FREE PARKING.
Beginning Friday at 3PM, restaurants and vendors will line the streets of the Reston Town Center. Live music will fill the air both days with favorites such as Jeff from Accounting, Sam Gunderson and The Reflex. Friday, Jeff from Accounting will be our first act on the main stage at 6:30PM, DJ Edward Daniels will warm everyone up, starting at 3.
Saturday enjoy live performances from Keenan, Sam Gunderson and The Reflex and that's just naming a few. From Noon – 8PM on Saturday, guests can sample their restaurant favorites as chefs prepare food on our culinary stage in the Wine 'n Dine section. Also during that time, YMCA Fairfax Reston will offer games and prizes, and entertainment from Bach to Rock Music School and Cast Another Stone at the Family Fun Zone! Stage.
Taste of Reston event admission and parking are free. Food tickets are $1 per ticket or $20 for 24 tickets. Advance tickets are on sale online, at http://www.RestonTaste.com
WHEN: Friday, June 16, 3 PM – 11 PM & Saturday, June 17, Noon – 11 PM
WHERE: Reston Town Center, 11900 Market Street, Reston, VA 20190
RESTAURANTS: Buffalo Wing Factory, GreenFare Organic Café, Gregorio's Trattoria, Lisa's Lemonade & More, M&S Grill, The Melting Pot ,Mom's Momo, Not Your Average Joes, Pitango Gelato, Robek's Fruit Smoothies, Rocoto Gourmet, Tavern64Regional Kitchen, Udon Food, Vinifera Wine Bar & Bistro and The Zone
ENTERTAINMENT: Jeff from Accounting, DJ Moon Man, Bach to Rock School of Music, Bily T Wilde, Keenan, Sam Gunderson, The Reflex, DJ Jon Paul, DJ Crazy B, Jason Masi, Ken Wenzel, Gary Smallwood, Hilary Veltri, Cast Another Stone
About the Greater Reston Chamber of Commerce:
The Greater Reston Chamber of Commerce is the catalyst for business growth and entrepreneurship by providing quality ​programs, education, connections and advocacy for our members and organizations in the Dulles Corridor. To learn more visit http://www.restonchamber.org/